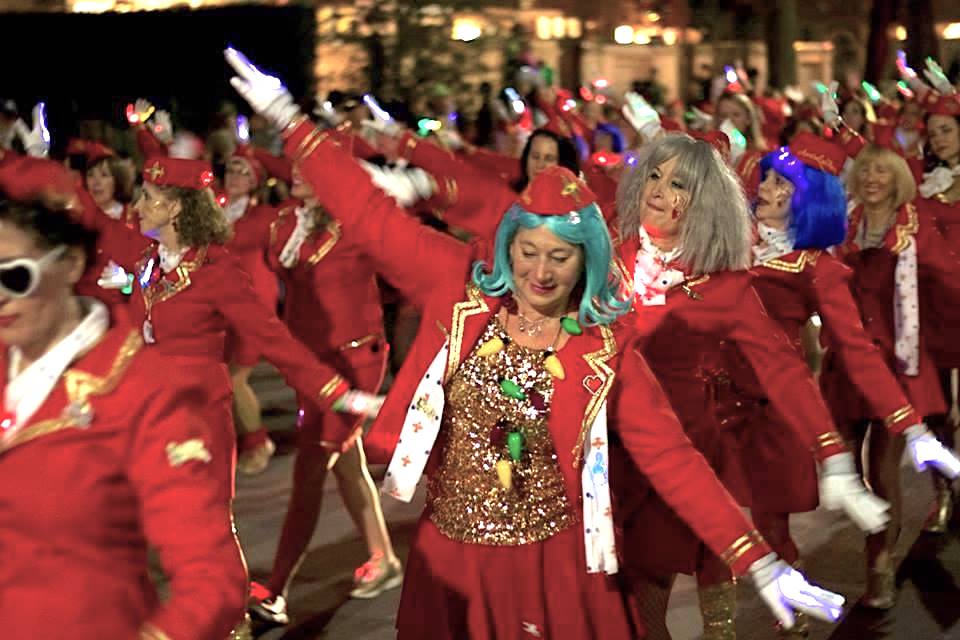 What would Mardi Gras be without its parades? And what would Mardi Gras parades be without its sassy, sequined, irreverent dance troupes and marching clubs? In the past few years, DYI marching groups have been popping up all over. It's a great way to be a part of Mardi Gras without the expense of joining a big krewe. The best of the best groups like to do it up big. Big costumes, big color, big hair, big glitter. Watch for these great groups on the parade route:
Alter Egos Steppers – The Alter Egos first paraded in 2017. They are famous for purple wigs and for doing good things for the community.
Amazons – To represent a certain "ferocity of spirit and soul," the Amazons, some of whom are cancer survivors, don't smile on their parade route. They don warrior tunics and breast armor, and, along with the Scythians (their male supporters), they perform formations during marches with their swords.
Amelia EarHawts & Cabin Krewe – This dance group was founded in 2014, inspired by the tragic female aviation pioneer who spent some of her last days at Lakefront Airport in New Orleans. They take off down the street in old-time flight attendant outfits. The EarHawts are staples in the Krewe of Cleopatra, Krewe of King Arthur, Krewe of Druids, Knights of Babylon and Krewe of Iris parades.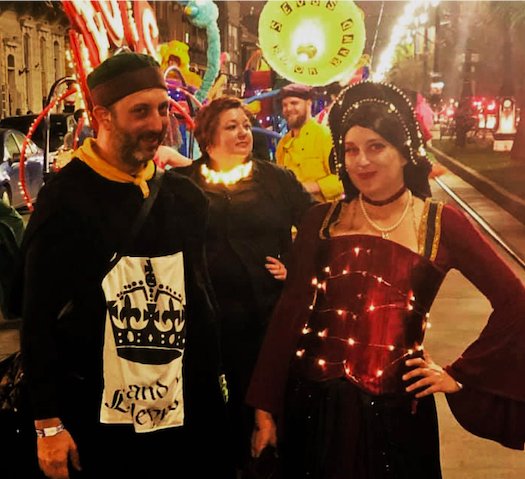 ...and Boleyns – In 2018, a small group of friends formed the ... and Boleyns as a pun of the doomed English Tudor Queen Anne Boleyn and the ever growing list of Mardi Gras Krewes. Every year, King Henry VII, the French Executioner, a handful of Annes and other characters march in krewedelusion.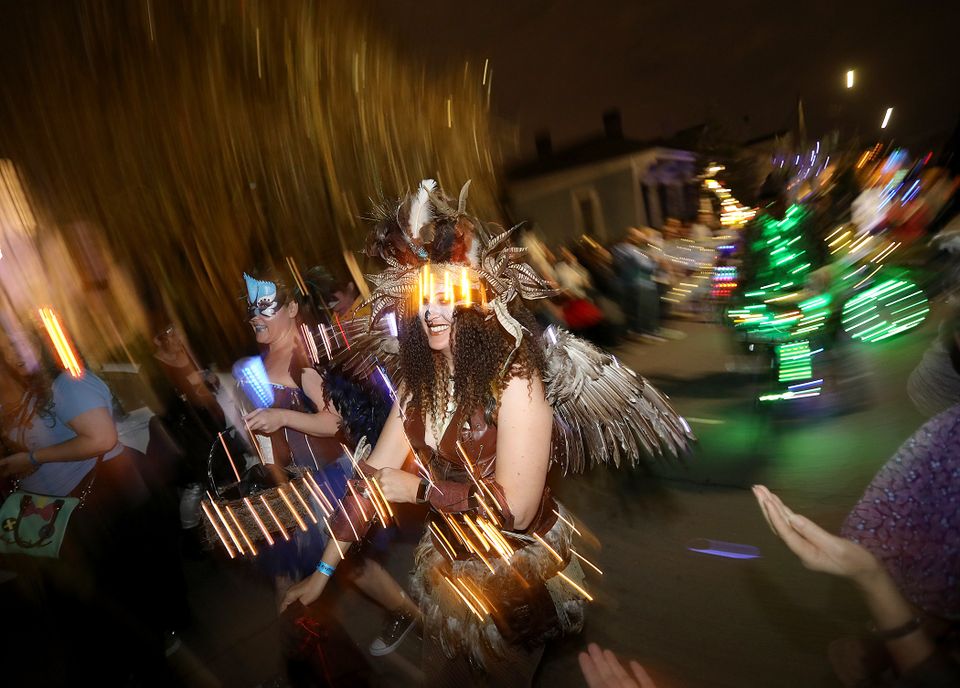 The Baby Dolls Sisterhood – Info to Come
The Bayou Babes of New Orleans – Founded in 2017 out of the love of Zydeco music, this co-ed marching group is known for their DIY costumes. Their signature throw is a hand-decorated mini pirogue. They march in the Krewe Bohème parade.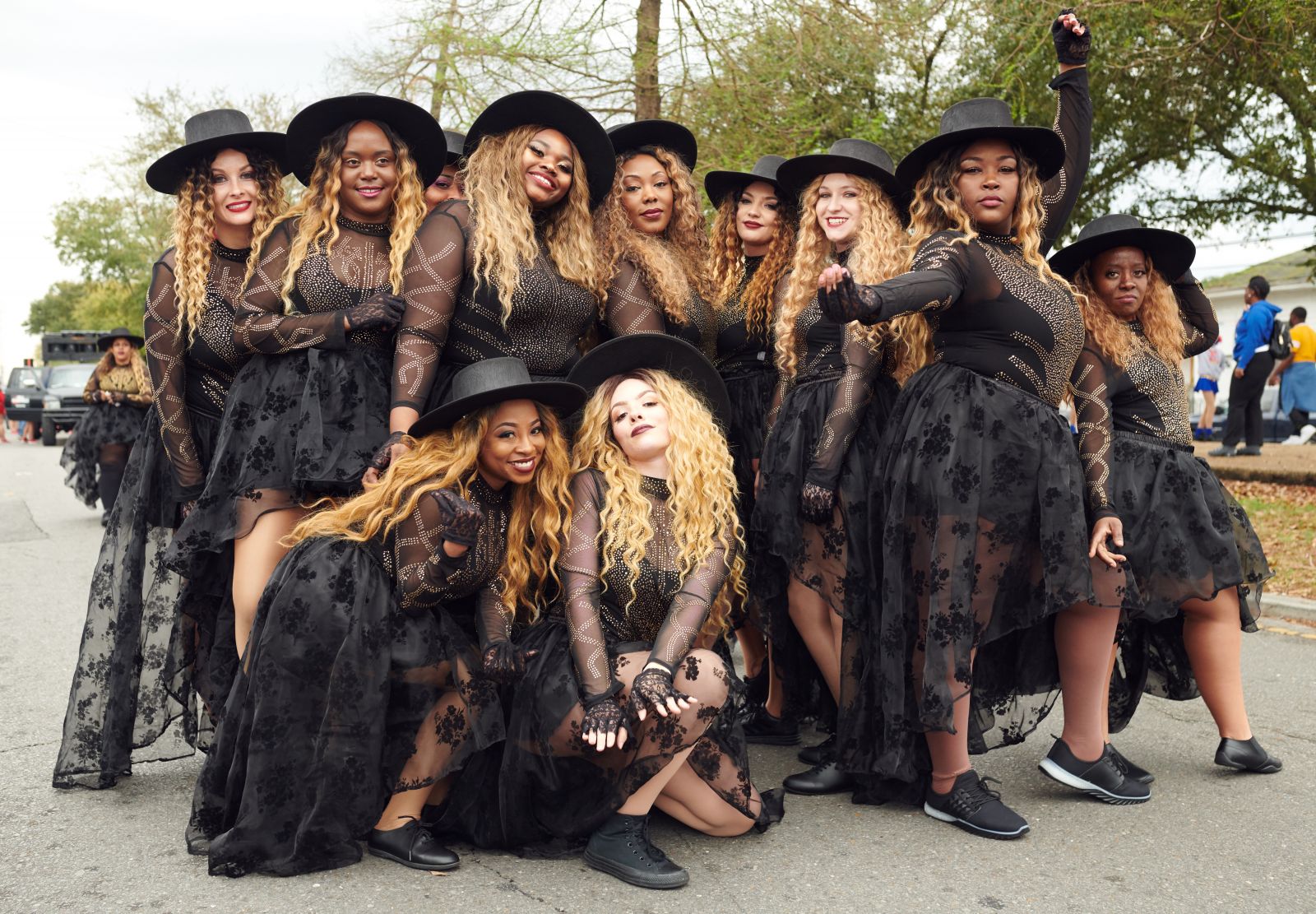 The Beyjorettes – This Beyoncé-themed dance troupe debuted at FestiGals in 2019. The city's "fiercest" parade krewe invites you to join the Bey-Hive. Photo by Patrick Niddrie.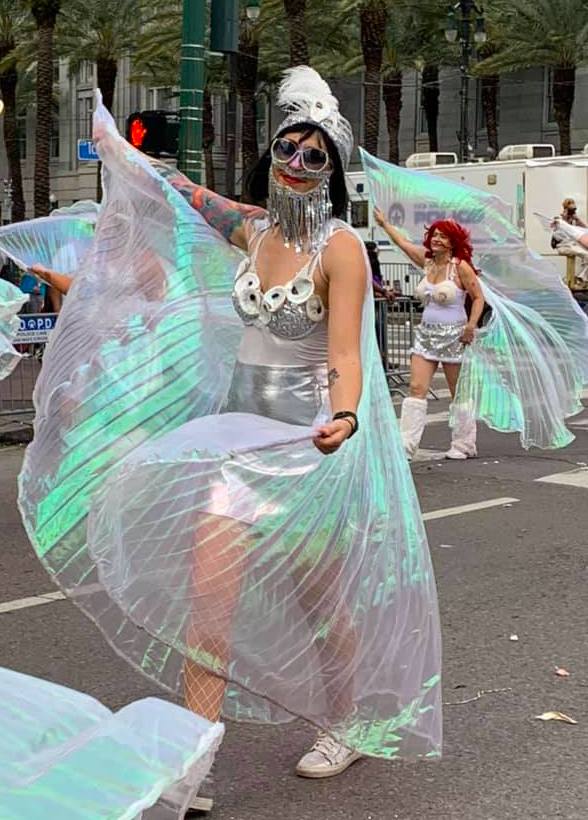 Bearded Oysters – No, New Orleans hasn't got to the point where we have real oysters dancing down the street, but we do have this girls' troupe that's more into shaking and wooing than any kind of stilted choreography. Men are also involved, dressed up as chefs and called "Oyster Shuckers." Photo by Christina Peters.
Black Storyville Baby Dolls – Founded in 2014, this group throws black roses to honor the women who costumed and paraded in the African-American part of New Orleans' red-light district in 1912. They also throw cigars which the first dolls smoked openly in public. Joining them on the route are the "Basin Street Characters."
Blanco Sereia – This group has a Brazilian theme. Their costumes are inspired by two Yoruba water goddesses, Oxum and Lemanja. BTW, blanco is a Brazilian Carnival term for marching groups that circle the block.
Big Easy Rollergirls – What Fat Tuesday parade would be complete without New Orleans' only professional roller derby team? The girls are ready to put on a jam – and maybe even challenge you to a match race!
Bosom Buddies and Breast Friends – Since 2013, this 70-member troupe has walked through the French Quarter on the Friday before Mardi Gras in bras, tutus, wigs and hats. They aim to be "classy and sassy, never trashy."
Box of Wine – The Box of Wine marching parade alerts revelers that Bacchus is ready to roll. This group marches ahead of Bacchus dispensing box wine along the way.
Candy Girls – For more than 10 years, the purple-colored Candy Girls, accompanied by their Sugar Daddies, has added a touch of sweetness to the Hermes parade.
Camel Toe Lady Steppers – The Camel Toe Lady Steppers took their name from an unfortunate aspect of some majorette costumes ordered through the mail. Past themes have included Incogni-TOE, Toe-Bots, Ma-Toe-Dors, Camel Toe Cha Cha, Toes in Da Nile, and Nasty Women: Camel Toe World Tour.
The Chairy Chicks – This all-female Northshore-based recliner krewe was ispired by the Laissez-Boys.
The Companionettes – Based loosely on Inara from the science fiction show "Firefly," this troupe appears in the Chewbacchus parade to live music from the Browncoat Brass. They've been around since 2015.

Crescent City Dames – Since 2012, the Crescent City Dames have created their hand-beaded corsets. In the past, themes have included "Women of Power," "The Holidays" and "Toasting the Cocktail." They sashay annually on the Friday before Mardi Gras at noon in the French Quarter. They start at Felix's Oyster House on the Bourbon side, head down to Lafitte's Blacksmith Shop, cross over to Royal Street and head back to Felix's.
Crescent City Fae – Made up of sprites, pixies, pans and elves, this group is all about "Throwing glitter not shade."
The Dance Connection – This 40+-year-old group's motto is "UNITY…Though dance and Friendship." Established in 1979, TDC was the first troupe to use a mobile sound system.
Dancing in Uranus – Dedicated to interplanetary rug cutting, you'll find his mini krewe in the Chewbacchus sci-fi parade.
Dames de Perlage – This non-dancing dance group prides itself on beadwork: hand-crafted corsets, headdresses, and bustles. They march with the Big Fun Brass Band.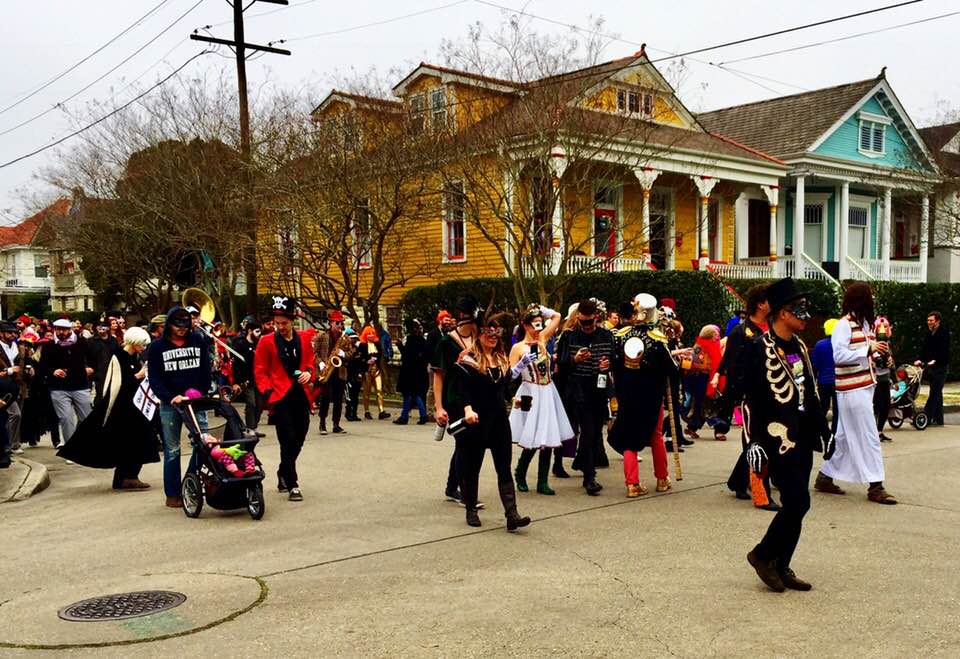 Dead Beans – The Dead Beans, founded in 2018, wear suits inspired by mythology or traditions that deal with death, mortality or the afterlife. They parade on Lundi Gras near Bayou St. John with music by Panorama Brass Band and Bon Bon Vivant. Watch for the Dead Bean hearse! Photo above courtesy of Missy Dalton.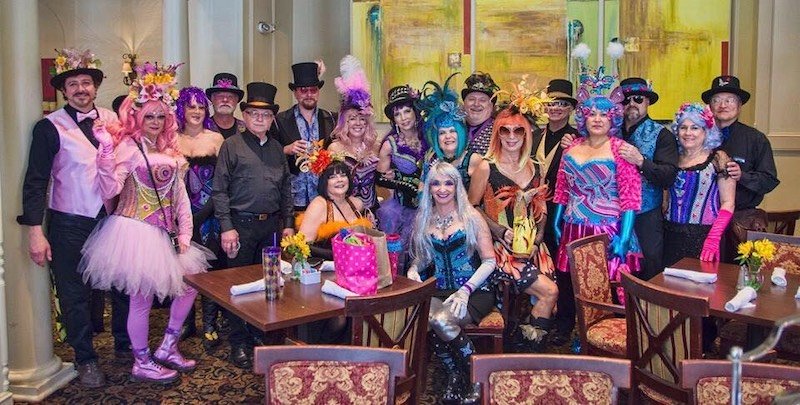 Dead Rock Stars – This all-male group costumes for the Muses Parade as a different dead pop icon each year.
Divine Jewels of Covington – This marching group recycles Mardi Gras beads in an interesting way – they use them to make elaborately decorated bustiers and other accouterments. The guys who accompany the Jewels are called Jokers. They wear top hats and dress in black with an accent color matching their Jewel. The group was founded in 2018 and currently has 44 Jewels and 27 Jokers. Come see them in the French Quarter the Friday before Mardi Gras.
Dictator's Dancin' Darlings – The satirical male Darlings can be found in Krewe d'Etat every year. In past years they have dressed as inattentive Vatican police, North Korean despots, and paunchy Saints defensive coaches.
Disco Amigos – Disco will never die if this krewe has anything to say about it. Founded in 2012, this group is "Saturday Night Live" does "Saturday Night Fever." They host a rolling "Disco Train" party during each parade that allows non-members to jump in.
DIVAs (the Divine Protectors of Endangered Pleasures) – Every year at 1:15 p.m. on the Friday preceding Fat Tuesday, the DIVAs, clad in elaborate bustiers, come down from the Arnaud's balcony, promenade up Bourbon Street, through the courtyard at Pat O'Brien's, down Royal and back up to their balcony. Accompanied by the Rolling Elvi and the Riverside Ramblers jazz marching band, they are known for their specially designed bustier bead throws.
Dolly - Found in 2020, the Krewe of Dolly is a marching krewe celebrating the amazing Dolly Parton. The krewe engages the community through special appearances and events to support causes closte to Dolly's heart with a focus on children's literacy in New Orleans. Stated simply, What Would Dolly Do?
El Lucha Krewe – This group, which started in 2013 as part of the Krewe of Freret, is devoted to Mexican pro wrestling. You've got to see it to believe it.
Feijao – Feijao, "Big Bean" in Brazilian Portuguese, is the newest bean parade in New Orleans. The experience includes painted bean suits, Cajun music and Brazillian Samba.
French Quarter Madams – Inspired by "the entrepreneurial women of Storyville," these ladies walk the streets of the Quarter with their male companions, known as "Gentlemen Callers." Look for them in the afternoon on the Friday before Fat Tuesday.
Funfettis – Since 2019, this 45-member krewe from the Florida Parishes has paraded in Metairie, New Orleans, Slidell, Baton Rouge and the North Shore.
Goddesses –This krewe's roots lie in "taking back their sexuality and bodies from a culture that is often more fearful of sexuality than violence." Over the years, the goddesses has grown to include women, men, non-binary, and trans persons.
Golddigger Babydolls – The dancing group costumes in brightly colored little girl dresses with bloomers and bonnets. It's a reprisal of a group that paraded in the 1930s.
Gris Gris Strut – Founded in 2010, the Gris Gris Strut is the only dancing troupe in New Orleans made up primarily of professional dancers. The group, which has magic inside them instead of inside a gris gris bag, performs with their own marching band.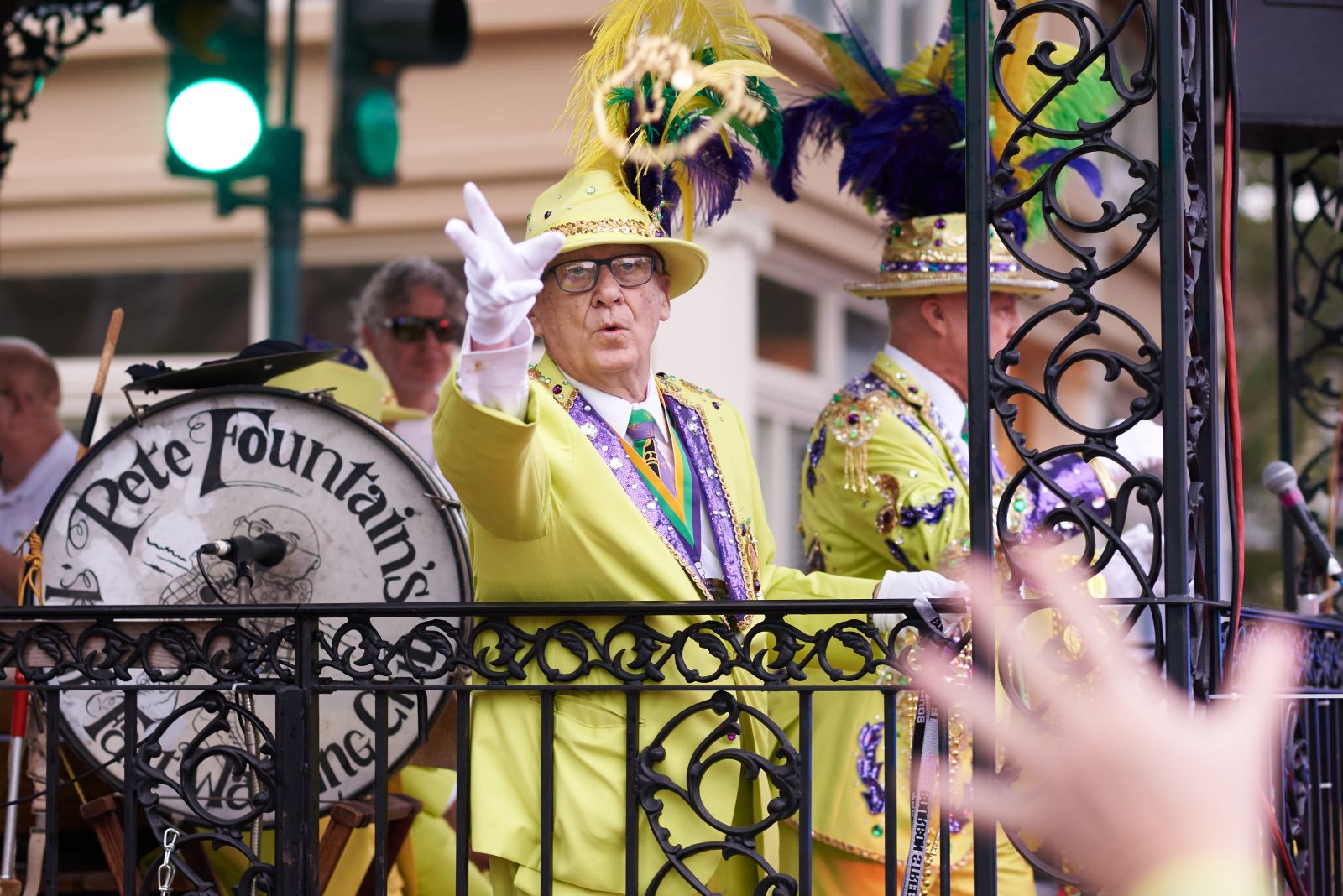 The Half-Fast Walking Club ­– This might just be the best-known marching group in New Orleans history. This group was founded as Pete Fountain's Half-Fast Walking Club by legendary clarinetist Pete Fountain and his friends in 1961. Although Pete passed away in 2016, his band of merry men continues on, following a route, unchanged since the mid-1970s. They begin at 7 a.m. on Mardi Gras morning at Commander's Palace in the Garden District, "toot and scoot" downtown on St. Charles Avenue and, after a brief interlude on Canal Street, turn onto Bourbon Street, wind around the Quarter, and eventually end up at the Monteleone Hotel. Photo by Patrick Niddrie.
Interrobang‽ – This artistic marching krewe, founded in 2014, devotes itself to nature with a focus on the fantastic. The krewe's symbol blends a question mark with an exclamation point.
The Irish Channel Corner Club – This neighborhood club was organized in 1918 on the corner of Rousseau and third streets. It marches in the Krewe of Thoth parade and again on Mardi Gras day.
Krewe of the Rolling Elvi – This group has two goals. Honor the memory of the King and entertain parade revelers. They succeed on both levels. Dozens of sequin-clad men riding around on scooters is a sight you don't want to miss.
Jailhouse Rockers – This krewe is a spin-off of the popular Krewe of the Rolling Elvi. Thank you, thank you, thank you very much for applauding them on the parade route.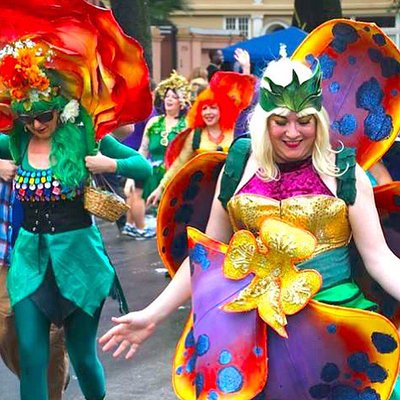 Jefferson City Buzzards – The Buzzards are the oldest Uptown marching club, founded in 1890. They start out at 7 a.m. on Mardi Gras Day at Audubon Park and Laurel.
Krewe des Fleurs – This group bloomed for the first time in 2016. Each year, they model themselves on a different flower.
Krewe of Fools – Founded in 2011, this krewe exists to honor French Quarter street performers. Every year, they choose one busker, magician or mime to serve as their king or queen.
Krewe of King James: The Super Bad Sex Machine Strollers – This co-ed group has marched every year since 2014 to spread the message of James Brown, Soul Brother #1, to "get up offa that thing." Among other things, they throw hand-decorated 45 vinyl records.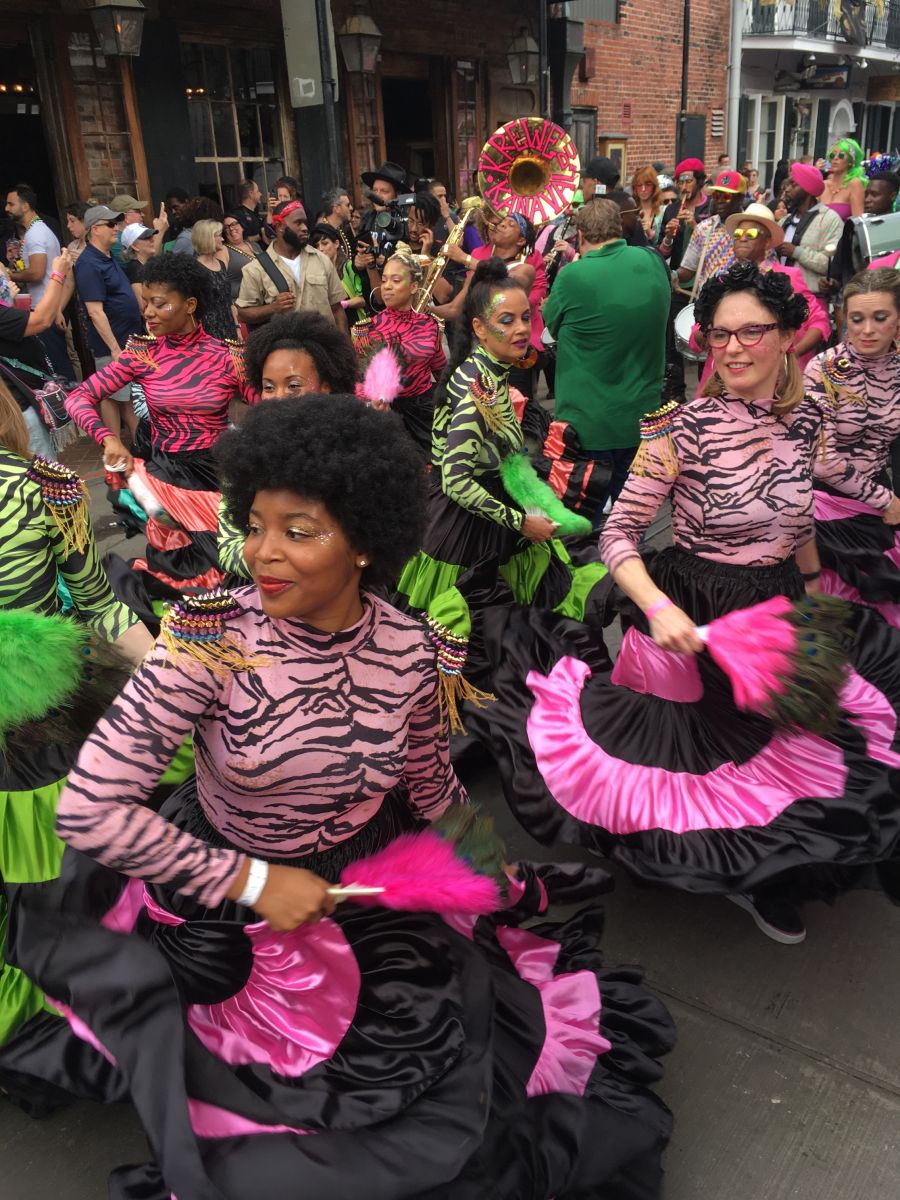 Krewe du Kanaval – In the 1800s, a tide of immigrants fleeing a slave revolt in what is now Haiti doubled the New Orleans population, leaving an indelible Caribbean mark on the city. This Haitian-inspired marching parade was conceived by Preservation Hall artistic director Ben Jaffe and Win Butler and Régine Chassagne of the band Arcade Fire to celebrate our city's historic bond with Haiti. They paraded for the first time in 2018. Photo by Peggy Murphy Stroer.
Krewe of Mayahuel – Named for the Aztec goddess of Agave, this marching group celebrates Mexican culture in NOLA at the krewedelusion parade.
Krewe of Rouxge – Who says "blondes have more fun?" To stroll with NOLA's All Red Head Parading Group," you have to be a natural redhead or be willing to either dye your hair or wear a wig.
KOE – Formed in 1998 by a couple of "netheads", KOE was the first organized Internet-based krewe. Members from all over the US (and some from foreign countries) come each year to party for a week at Mardi Gras with their Mardi Gras family. KOE festivities culminate with a parade which gathers in front of St. Louis Cathedral on Mardi Gras morning and parades through the French Quarter. Members costume following a yearly theme and the parade is accompanied by Treme Brass Band.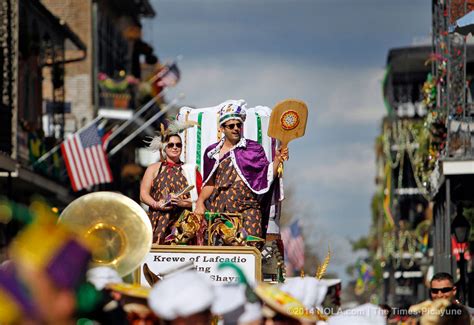 Krewe of Lafcadio – This popular French Quarter parade, always held the Saturday before Mardi Gras, satirizes New Orleans culture. With their name, they pay homage to journalist/writer Lafcadio Hearn (1850-1904) who wrote extensively about New Orleans food and culture. This edgy procession includes two mule-drawn floats, one carrying their king who is always a famous New Orleans chef (Alon Shaya is pictured here). If you love New Orleans, you love this parade.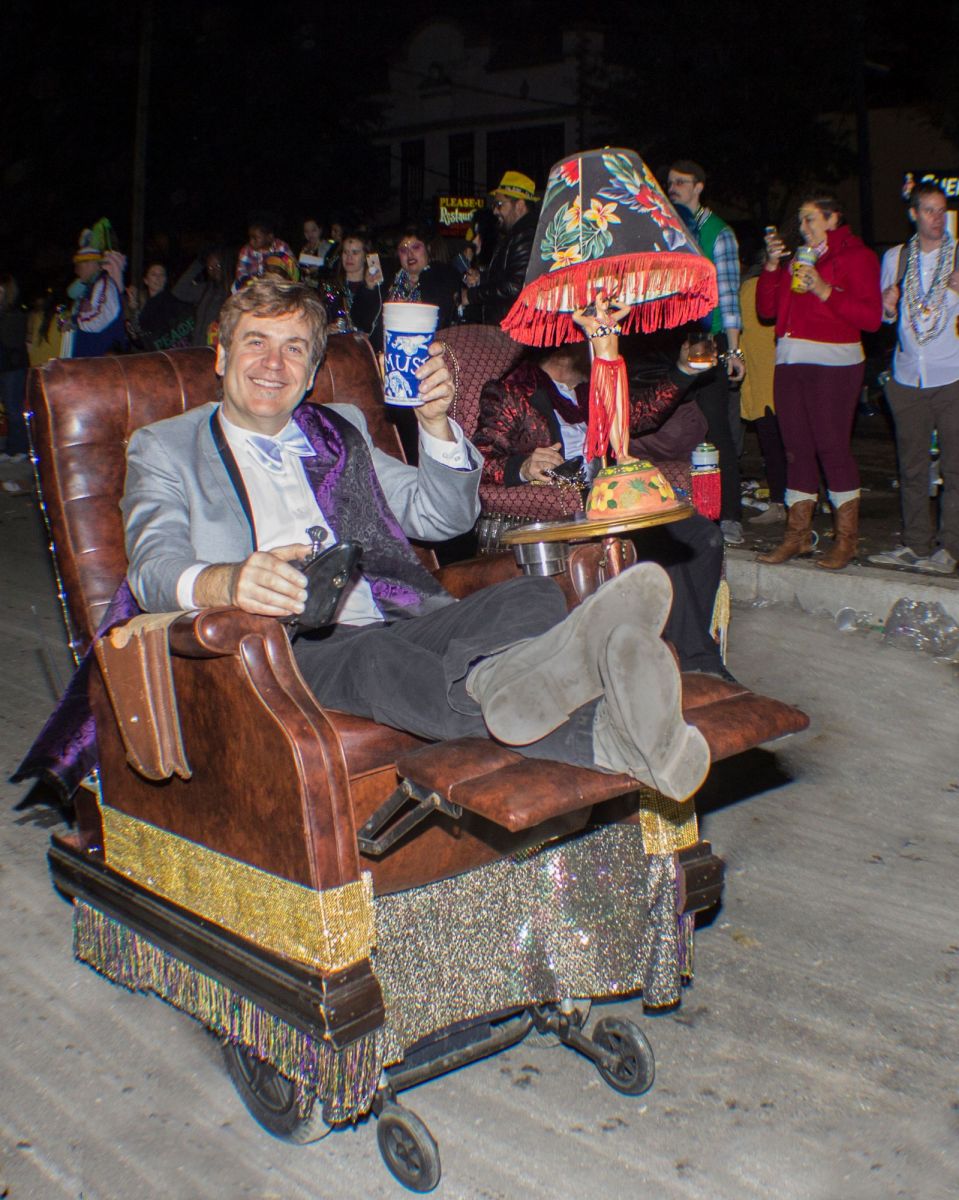 Laissez Boys – They don't dance or march but, in the true spirit of Mardi Gras this krewe rolls. Watch for their motorized Lazy Boys on the parade route. You'll have a new appreciation for that beat-up recliner in your parents living room. In fact, you'll find yourself mumbling, "I need one of those." Photo by Jennifer Oliver.
Leijorettes – Since 2014, the Leijorettes have paraded in memory of Princess Leia from Star Wars. You can spy them, not in a galaxy far far away, but right here in New Orleans at the Chewbacchus parade.
Lyons Carnival Club – This Uptown Mardi Gras marching club, organized in 1945, marches on Fat Tuesday. It's spiritual home is the Grits Bar, on the corner of Lyons and Annunciation.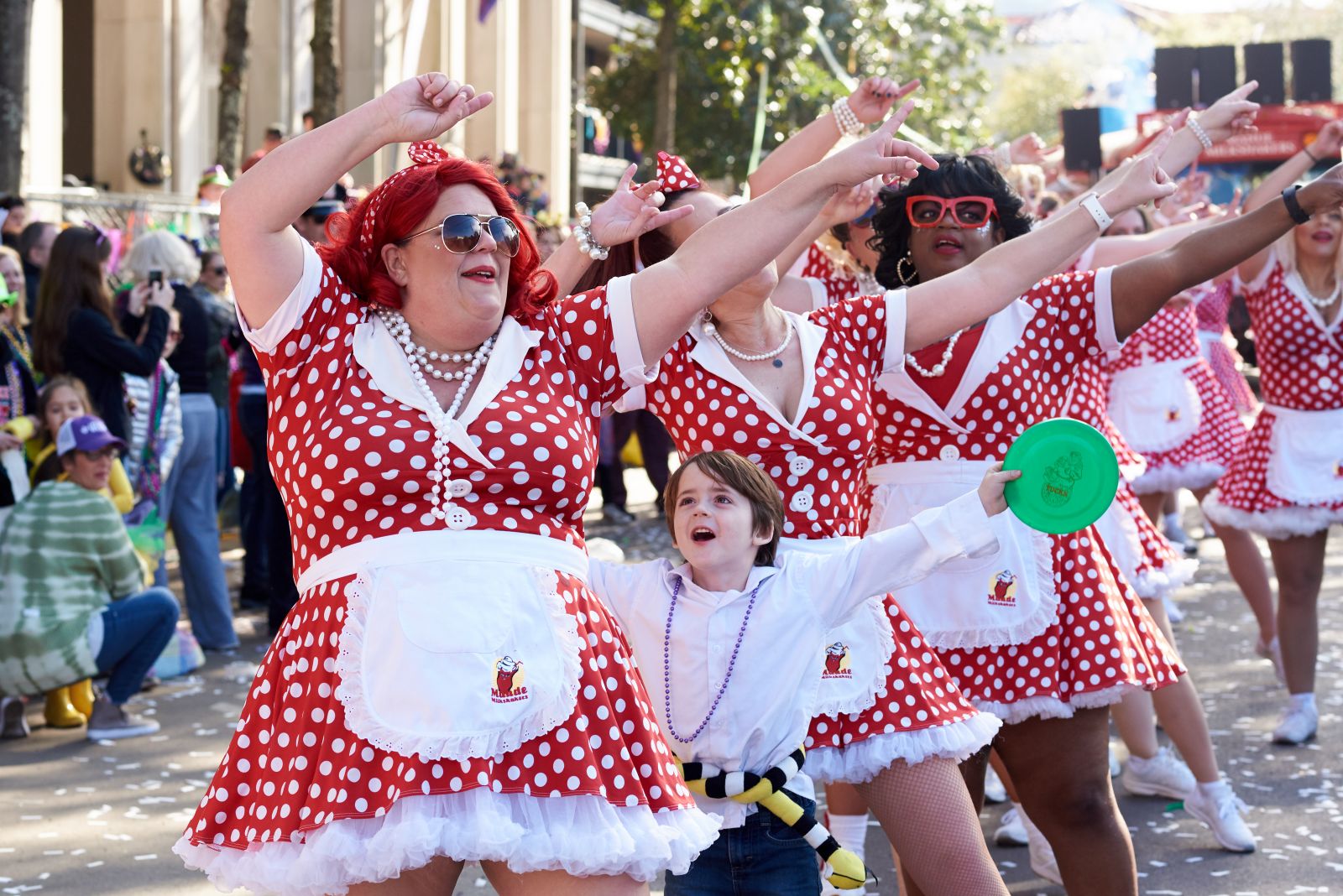 Mande Milkshakers – This Mandeville group costumes as sexy 1950s housewives. Photo by Patrick Niddrie.
Merry Antoinettes – Let them eat king cake! Formed in 2016, the Antoinettes celebrate the doomed French queen, Marie Antoinette. You'll find them in the Krewedelusion parade.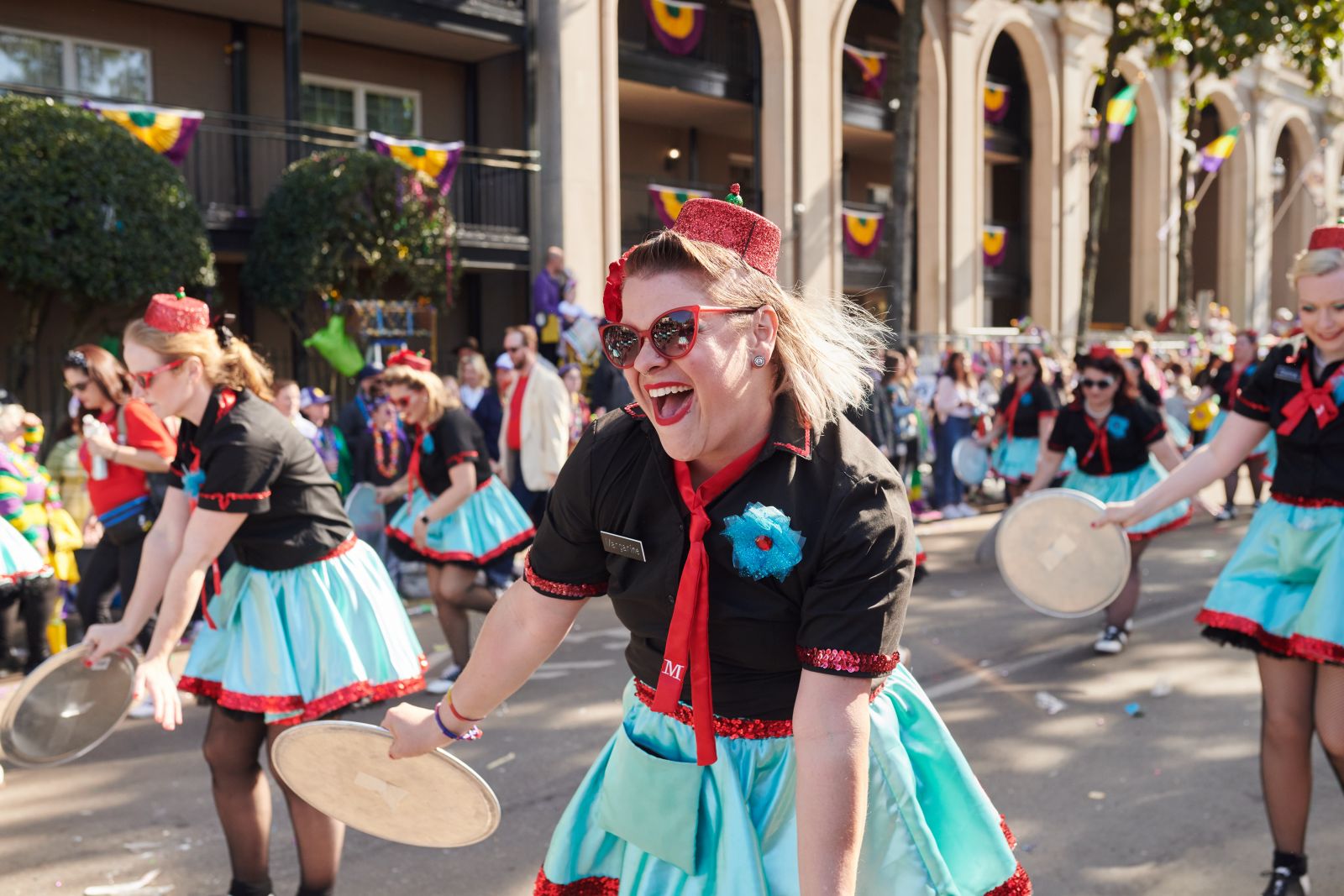 Muff-a-Lottas – Named after New Orleans' famous sandwich the muffuletta, this group dresses like feisty 1950s diner waitresses in saddle shoes and short skirts. They only dance to oldies with a New Orleans connection – tunes from Ernie K Doe, Irma Thomas, Fats Domino, The Dixie Cups, Shirley Ellis, and so on! They throw scarves, cat-eye sunglasses, and special Muff-A-Lotta beads. Photo by Patrick Niddrie.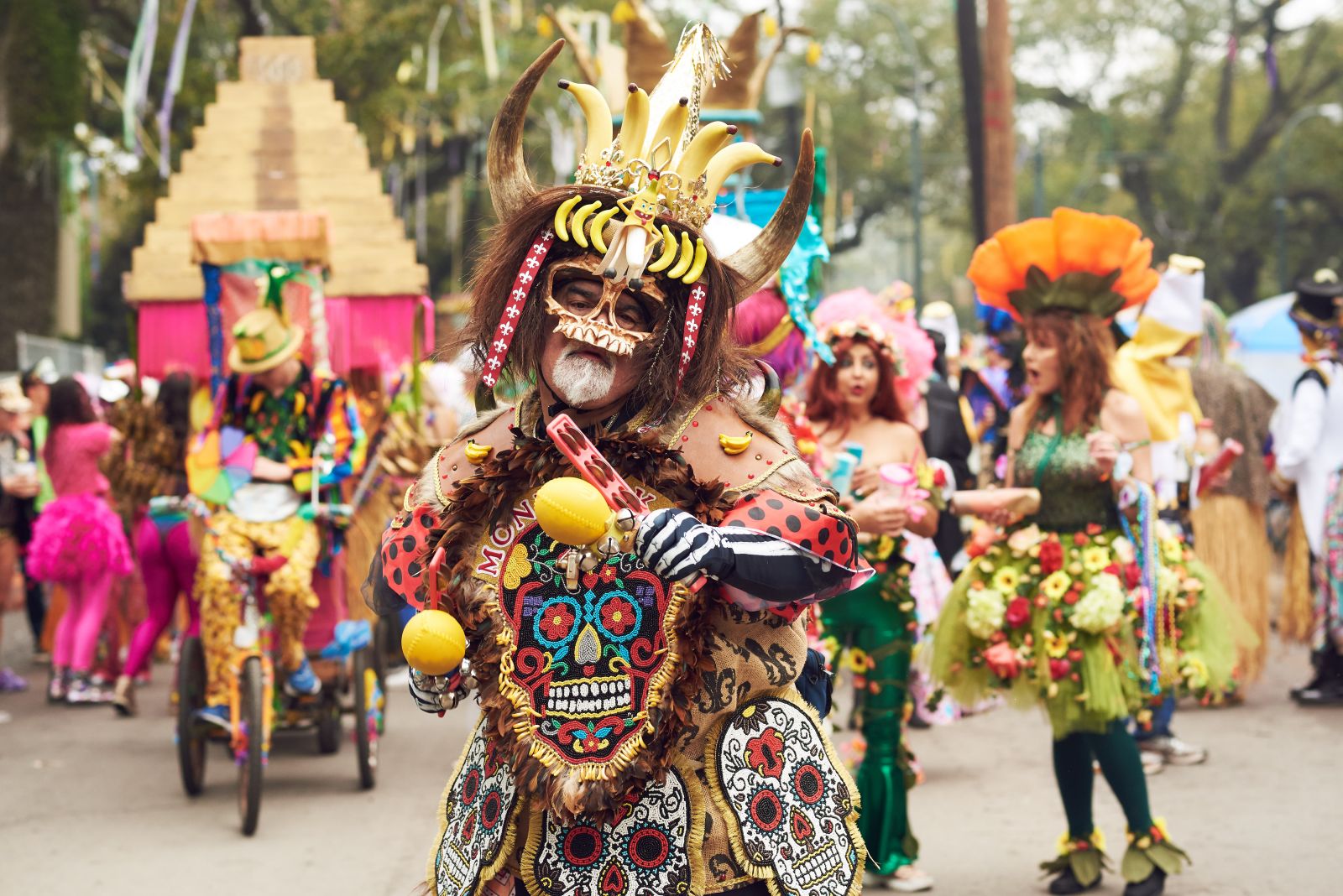 Mondo Kayo – Mondo Kayo, which operates on the premise that New Orleans is the northernmost banana republic, is all about the music and the dancing. Dressed in mostly homemade regalia, they take to the streets in colorful costumes designed to please the Tiki gods. Photo by Patrick Niddrie.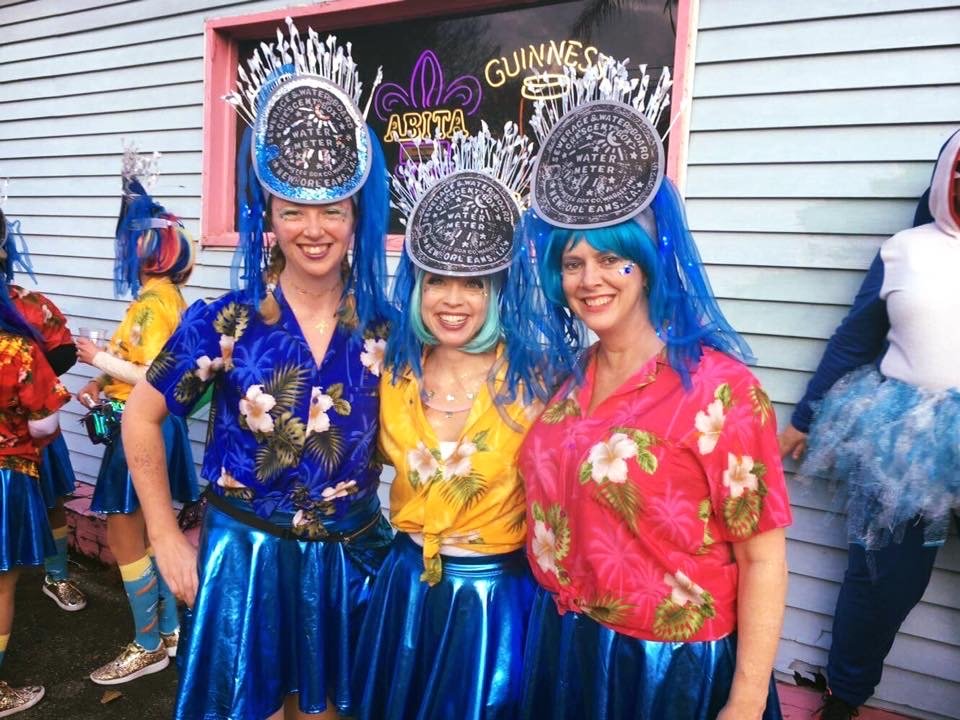 N'awlins Nymphs – Since 2012, the Nymphs have been a part of the Krewe d'Etat parade. If you like satire, you can't miss this one.
New Orleans Baby Doll Ladies – This group, founded in 2005, feels a deep connection to the city's first all-female marching groups. In 2016, they were given a slot of their own in the St. Charles Avenue procession in front of the Zulu.
NOLA Cherry Bombs – In the 1976 Runaways hit "Cherry Bomb," Cherie Currie sang, "Down the street, I'm the girl next door; I'm the fox you've been waiting for." That pretty much sums up these modern-day Cherry Bombs, purveyors of hardcore dance and big-time titillation. They are a welcome addition to any parade.
NOLA Chorus Girls – This troupe of fabulous flappers celebrates the jazz-age. Formed in 2011, they perform in just one parade every year.
NOLA Jewels – Like the NOLA Chorus Girls, this group has a flapper theme. They were founded in 2017.
NOLA Night Lights – Since 2017, the Night Lights have lit up Chewbacchus by twirling their lighted hula hoops.
NOLA Nyxettes – With their tuxes, tails and top hats, this group is reminiscent of the Radio City Rockettes. Look for them in, surprise, Nyx.
NOLA Showgirls –Those ostrich-feather fans belong to the NOLA Showgirls who add a little Las Vegas glamour to parade route (their Sunset Strip.)They've appeared in several TV shows, movies, and commercials.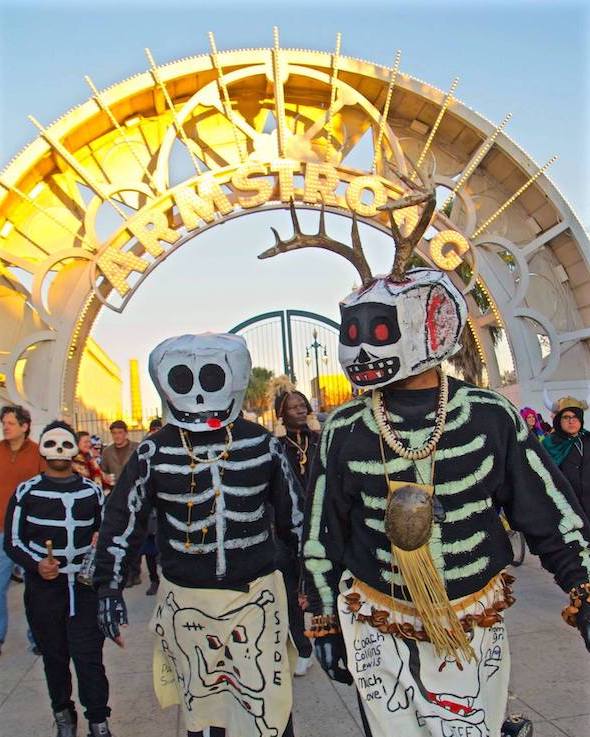 The North Side Skull and Bone Gang – At 5 a.m., The North Side Skull and Bone Gang leaves the Backstreet Cultural Museum in the Tremé and goes door to door, waking up the neighborhood, singing songs and spreading a message of peace: "If you don't live right, the Bone Man is comin' for ya," they chant. While the tradition dates back to 1819 and its roots can be traced back to African spirituality, the Skull and Bone Gang views its role in New Orleans as the "literal meaning of carnival, the shedding of flesh." Photo courtesy of the North Side Skull and Bone Gang.
Organ Grinders – Inspired by Prince's "Violet the Organ Grinder," these female dancers wear fezzes and are attended by male "Monkey Spankers."
Oui Dats – The big-haired Oui Dats were founded in 2014. Like the Merry Antoinettes, they celebrate the French queen (if she'd worked in Storyville). Their motto is "Classy, Sassy, and a little Smarta**y."
Petty Betties – This baseball bat carrying troupe, calls themselves the "pettiest marching troupe to walk the streets of New Orleans." They were formed in 2016 and first paraded in 2018.
Prima Donnas – Founded in 2008, this group of lovelies can be found in the French Quarter on the Friday before Mardi Gras.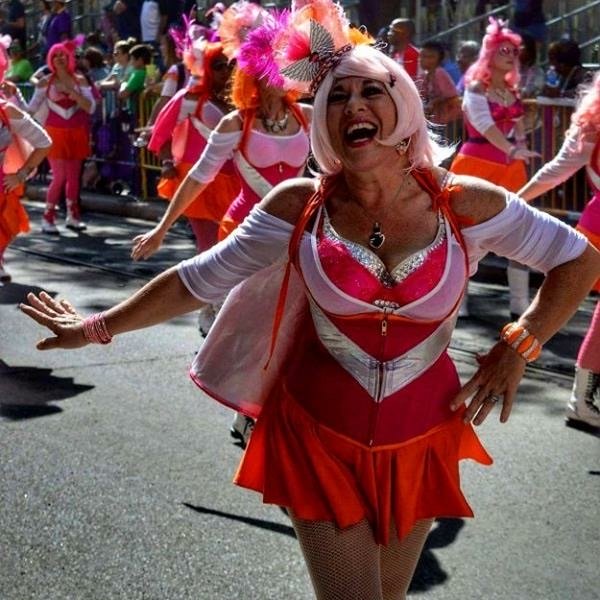 Pussyfooters – This all-women's marching club encourages self-confidence and self-respect via performance. The Pussyfooters are a staple on the Mardi Gras parade scene performing in multiple parades, fundraisers and special events year-round. Members wear cotton candy-colored wigs, lace-up bustiers, and white boots. You must be at least 30 years old to be a Pussyfooter.
Les ReBelles NOLA – Since 2019, this group has paraded in costumes inspired by 1920s flappers, 1960s go-go girls and 19th-century can-can girls.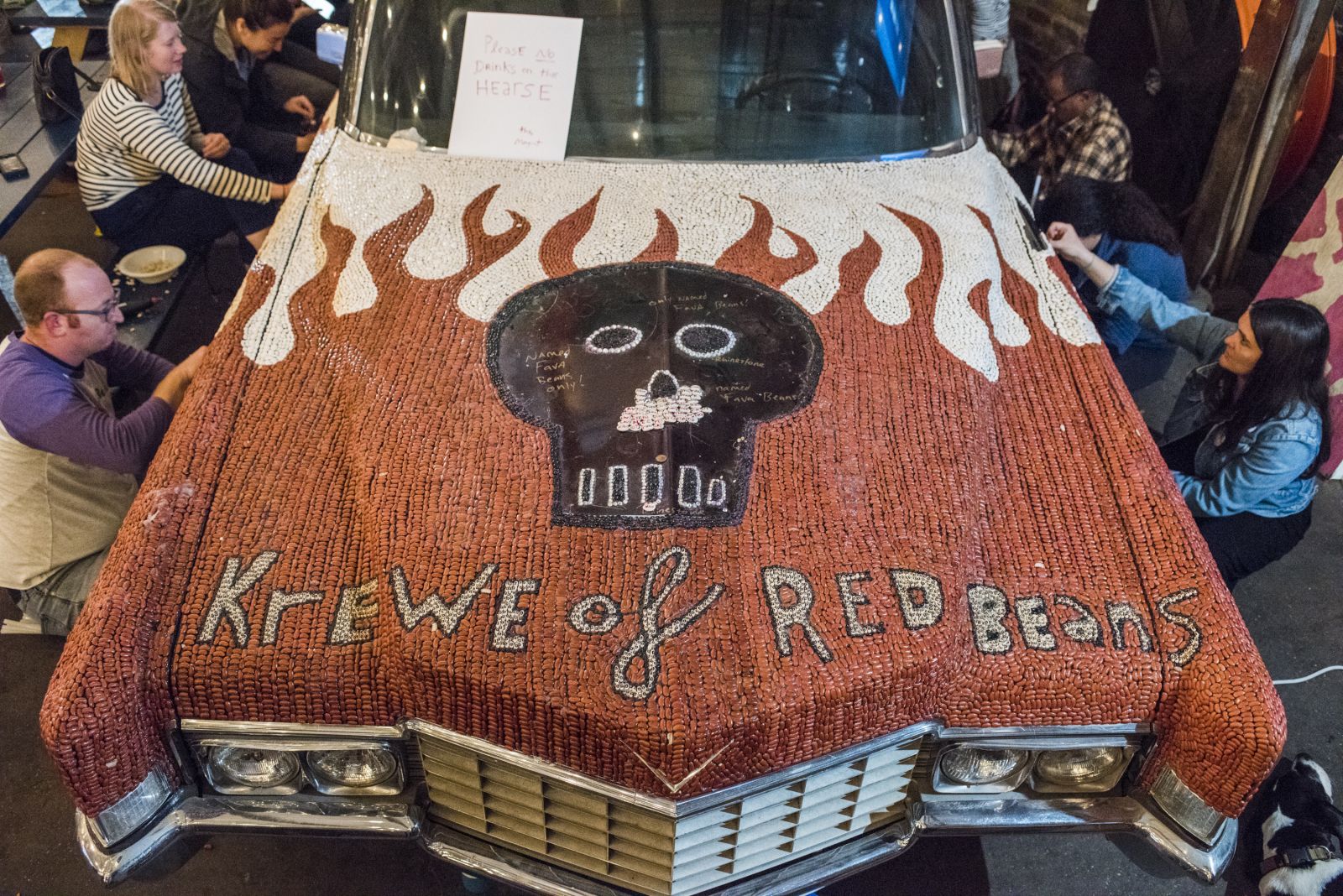 Red Beans – The first bean krewe was founded in 2008 and paraded for the first time in 2009. The 150 krewe members march on "the best Monday of the year," Lundi Gras, at 2 p.m through the Marigny and Treme where they meet the Dead Beans. They are typically joined by thousands of "unofficial" paraders in their own bean suits. Photo by Patrick Niddrie.
Ritmeaux Krewe – The name of the very first Latin dance marching group is a play on the Spanish word for rhythm (ritmo) with a Louisiana twist. Since 2016, the marching club's mission has been "to promote Hispanic/Latino heritage through Latin dance and music."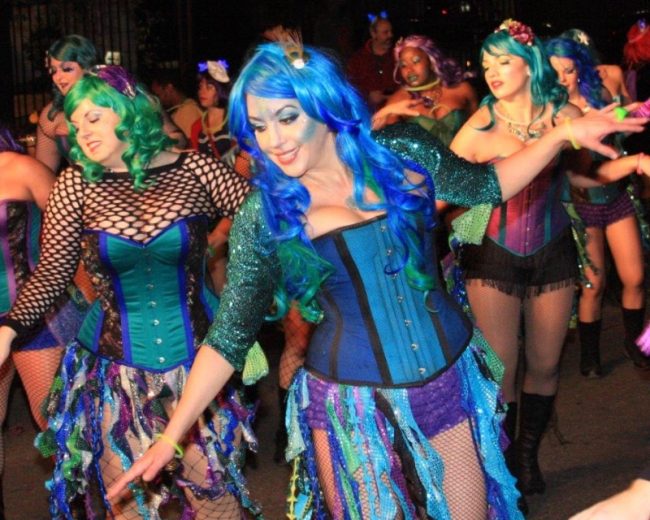 Roux La La – Founded in 2009, this group get its name from the roux (a base for gumbo). According to their website, they are "New Orleans' official swamp steppin', booty-shakin', booze guzzlin', pot stirrin', GLITTER IN YOUR FACE female dance troupe. They aim to "better our community one sequin at a time."
Skeleton Krewe – This 40-member macabre krewe was founded in 1999. After leading the Krewe D'Etat parade, you'll find them on the St. Charles Avenue parade route Mardi Gras morning.
SkinzNBonez – This group began in 2011 as drummers for the Original Wild Magnolias, and is not affiliated with the Northside Skull & Bones Gang. When a member has been around awhile, they are gifted a bone name or name themselves. Until then, they are called Wishbones. Children of the krewe members are called Short Ribs.
Sirens of New Orleans – Since 2010, the dancing mermaids and the Sailor Corp have danced the entire route of every parade they've been in, tossing their signature decorated "message in a bottle."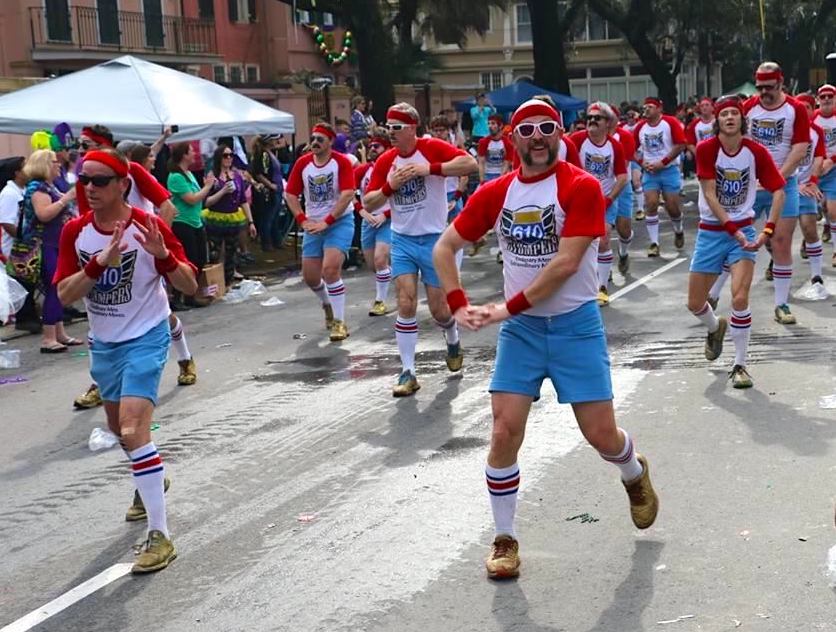 610 Stompers – These "Ordinary Men with Extraordinary Moves", have become world-famous since their founding in 2009, the year the Saints made their very first Super Bowl appearance. They've performed in the Macy's Thanksgiving Day Parade at the Kentucky Derby.
689 Swampers – In their cut-off jeans, neon orange knee socks, shrimp boots and camo life preservers, the "Magic Feet from Lafitte" are the wetland's answer to the 610 Stompers. Fun Trivia: 689 was the traditional telephone prefix for the wetland area surrounding Lafitte (population 972).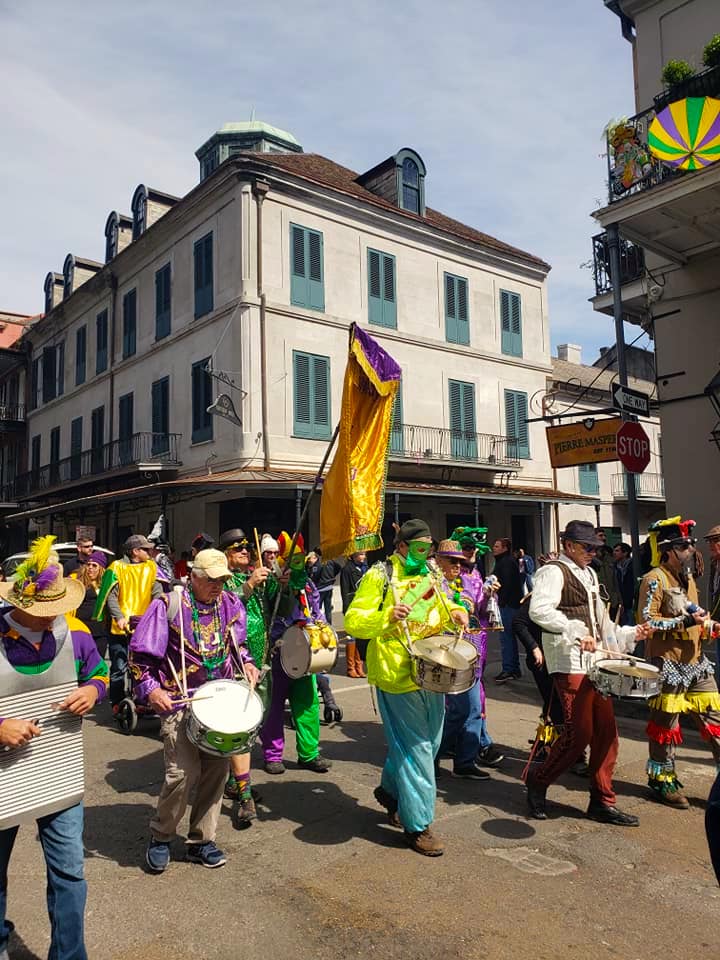 The Societé de Saint Anne ­– Founded in 1969, the Societé de Saint Anne parades every year on Fat Tuesday. The only requirement for membership is that you know about it. The marching group is known for elaborate and beautiful handmade costumes. The group gathers in the Bywater each Mardi Gras morning, with the Storyville Stompers brass band. As they pass through the Marigny and the French Quarter, additional costumed marchers join the parade. They stop at Canal Street to watch the Rex parade before returning to the French Quarter. Photo by Maria Delano.
Souper Krewe of Broth – Pronounced with a long "o" like Thoth, you'll find this krewe on the Endymion route serving soup to the soupless, dressed like matza balls, brocolli cheddar cheese soup, and alphabets from alphabet soup.
The Star-Steppin' Cosmonaughties – The 40-some member dance team of Krewe de Lune says they "burst into the universe in 2011. There motto is "celestial bodies in motion" and there motif is "all things outer space. What's more, they are a "oo-ed combination of cosmos and space sass."
The Streetcar Strutters – This group rolled down St. Charles Avenue for the first time in 2017. Their group's green and gold costumes feature hand-decorated conductor caps.
TAP DAT – Established in 2008, TAP DAT wears black and gold costumes and tap dances their way into Mardi Gras history every year.
Every marching group in New Orleans is worth a second – and third – look. Get your camera ready when you see one coming up the street.
Order "I Wanna Do That!
The Magic of Mardi Gras Marching Krewes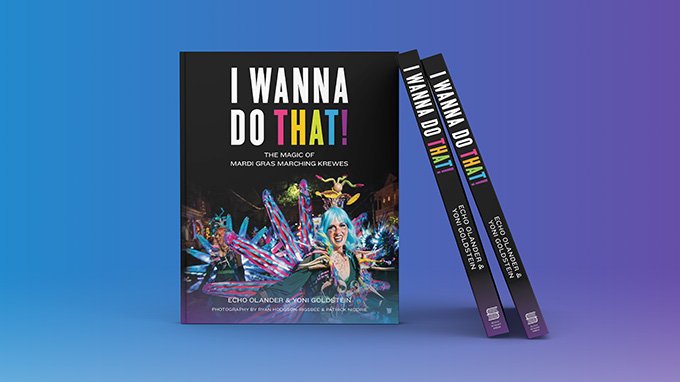 To learn more about the recent explosion of marching groups in New Orleans, pick up a copy of "I Wanna Do That! The Magic of Mardi Gras Marching Krewes." It's filled with spectacular photography and little known Mardi Gras facts. It makes a great gift, too! Order now.