Parades are a major part of celebrating Mardi Gras, and what's a parade without some really great floats? Ever since krewes began parading through New Orleans over 100 years ago, parade floats have played a major role in Mardi Gras history.
Some floats are elaborate and beautiful, while others are funny and satirical. Many krewes have a theme to their parade each year, and so floats are created to reflect those themes. Thousands of dollars are poured into making these floats, and they're not made overnight. Krewes work on these creations year-round, often at secret "dens" around the city. Krewes take their floats seriously.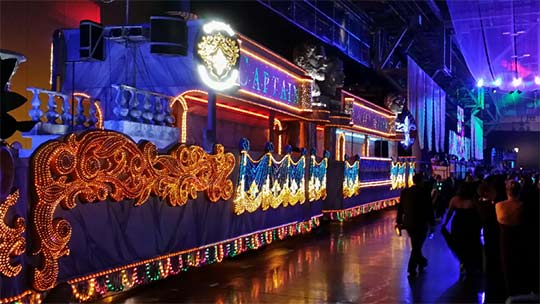 Dozens of krewe members will ride on each float and there are anywhere from 15-40 full-size floats in any given parade, tossing beads and homemade "throws" to cheering crowds chanting "Throw Me Something, Mister" (or "Miss" as the case may be)!
---
World Famous Float Builder
Kern Studios, the world leader in float creation, has been a part of Mardi Gras history since 1932. Now the family-owned and operated business designs and builds floats for festivals and celebrations all over the world. See the magical creations by Kern Studios on display year around Mardi Gras World.