What's a Mardi Gras party without a King Cake?
Mardi Gras and king cakes go hand in hand – especially in New Orleans where hundreds of thousands of king cakes are enjoyed at parties, offices and in homes every year.
According to the Christian faith, Jesus first showed himself to the three wise men and to the world on January 6th, also known as Twelfth Night or the Epiphany. The word "Epiphany" is from the Greek word "to show." This is the day Mardi Gras season – hence king cake season – begins.
Each king cake has a tiny baby inside (generally plastic now, but it's possible the baby might be made of porcelain or even gold). In the past, you might have found an item such as a coin, bean, pecan or pea in a king cake. The lucky person who receives the slice of cake with the baby has the next king cake party (or brings the next cake for the office).
The king cake tradition is believed to have been brought over from France in the 1870s. Originally, king cakes were a simple ring of dough with a small amount of decoration. After the rich dough is braided and baked, the top of the cake is covered with delicious sugar toppings in the traditional Mardi Gras colors of purple, green and gold (purple for "justice," green for "faith" and gold for "power"). In more recent years, many bakeries have been creative, topping their cakes with different flavors of cream cheese and fruit fillings and offering them in various shapes. King cakes are often served at New Orleans weddings as the groom's cake.
Shop for King Cakes
Ordering King Cakes over the internet has become an annual tradition by consumers all around the world - and many of our bakers offer them year-round.
Whether you are a local seeking a larger selection of king cake offerings or want a king cake delivered to your out-of-town friends, MardiGrasNewOrleans.com is your source for the best king cakes in the New Orleans area.
Featured Bakery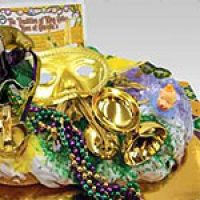 Cannata's King Cakes
People Choice Award Winner at the King Cake Festival
As local New Orleanians, we have tried every king cake in the city and this is one of the best around! Every Cannata's King Cake is made from scratch the old-fashioned way. The cakes arrive fresh and delicious, just like you walked into the bakery that same day. Cannata's offers 60 fabulous flavors, including Apple Cinnamon Pecan, Strawberry Cream Cheese, King Creole Praline, the Tigerrrr Gooey Butter King Cake, the Bayou Alligator King Cake (a pistachio coconut Bavarian infusion) and more. Try a different one every week!
visit site »
---
Other Fine Bakeries
Sweet Savor's Bakery
According to WDSU, Sweet Savor's Bakery has the "Best King Cake in New Orleans." They also won "Best Original King Cake" at the Annual King Cake Festival in New Orleans. Options include a sweet potato-filled king cake.
Manny Randazzo's
With an original recipe that dates back 50 years, Randazzo's king cakes are a local favorite (you should see the line out the door). Along with the traditional, they offer flavors like Pecan Praline and the Royal, which includes a little bit of everything.
Dong Phuong Bakery
Along with their Vietnamese po-boys, this 30-year-old New Orleans East establishment is famous for its king cake made with rich brioche dough, tangy cream cheese and cinnamon. Other flavors are also available.
Gambino's Bakery
Famous for their doberge cake, Gambino's is also the maker of "the King of King Cakes," a cinnamon-infused cake made with moist Danish dough and topped with icing. They also offer single and double-filled varieties.
Randazzo's Camellia's City Bakery
Camellia City Bakery offers traditional king cakes, hand-braided with cinnamon and sugar as well as filled varieties. Halloween, fall and Christmas king cakes are also available.
Haydel's Bakery
If you're a king cake purist, you'll love Haydel's version. During the year you can also get fleur de lis, heart and candy cane shaped king cakes here, as well as cakes in Halloween and Easter colors.
Maurice French Pastries
Maurice offers traditional King Cakes made of brioche bread in multiple flavors, and is famous for its stuffed king cakes. Choices including the Ponchatoula King Cake (stuffed with strawberries and cream) and the Bourbon Street (a creamy, chocolate custard-filled cake with Kentucky bourbon).
La Boulangerie
King cake options include traditional versions stuffed with cinnamon-cream cheese, chocolate-pecan, and strawberry-mascarpone. You can also get the French galettes des rois here –a cake traditionally shared at Epiphany.