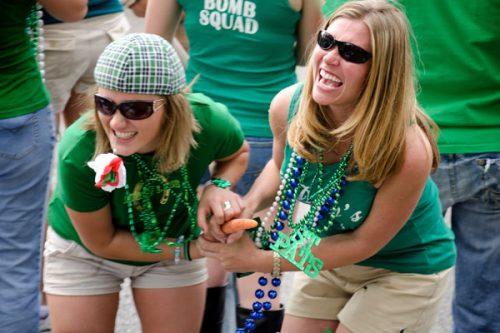 Miss Mardi Gras? Awwwwww. Lucky for you, parades will be rolling in the Big Easy for St. Patrick's Day and St. Joseph's Day, and you'll get another chance to see Mardi Gras Indians doing their thing on Super Sunday. Check out the events below and then book a hotel close to the action at bestneworleanshotels.com.
Irish Channel Parade
On Saturday, March 11 at 1 p.m., put on your green and head to the Irish Channel Parade, right after the St. Patrick's Day mass at St. Mary's Assumption Church. Throws from The Irish Channel St. Patrick's Day Committee, organized in 1947, include everything you need to make an Irish stew when you get home. Plan to stay for the block party at Tracy's. See the parade route here.
St. Patrick's Day Parade on Metairie Road
Just 15 minutes or so from downtown, the beloved St. Patrick's Day Parade rolls on Metairie Road on Sunday, March 12 at noon. See parade route.
Downtown Irish Club Parade
The Downtown Irish Club Parade takes to the streets on Friday, March 17 at 7 p.m. this year. Get ready to yell, "Throw me something, lassie!" See parade route.
Louisiana Irish Italian Parade
Don't put your green away yet. On Sunday, March 18th the fun continues in Metairie at noon on Veterans. See parade route.
Super Sunday Mardi Gras Indian Processions
March 19 is Super Sunday in New Orleans. Here's your chance to see Mardi Gras Indian tribes in friendly competitions which include traditional dances and chanting. Learn more.
Italian-American St. Joseph's Parade in the French Quarter
On Saturday, March 25th at 6 p.m., the St Joseph's Society will present this popular procession in the Vieux Carré featuring spectacular floats, sparkling costumes, and lots of Italian-Americans handing out green, white and red beads, silk flowers and blessed fava beans. See parade route.
St. Bernard Irish Italian Islenos Parade
St. Patrick's Day on April Fool's Day? It's no joke! Head to St. Bernard Parish to watch 53+ floats and 35+ marching groups, and to catch your fair share of 350.000 pounds of produce. See parade route.
See more St. Patrick's Day events in New Orleans