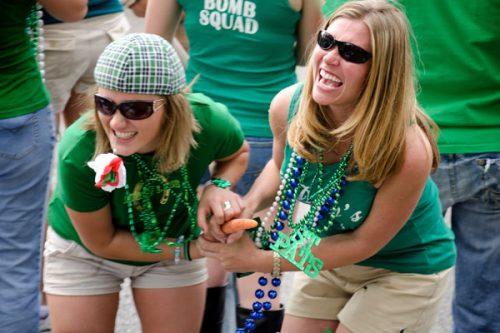 NOTE: SEVERAL EVENTS HAVE BEEN CANCELLED IN NEW ORLEANS DUE TO THE THREAT OF CORONAVIRUS. PLEASE CALL AHEAD OR CHECK WITH LOCAL NEWS OUTLETS BEFORE YOU HEAD OUT.
Miss Mardi Gras? Awwwwww. Lucky for you, parades will be rolling in the Big Easy for St. Patrick's Day and St. Joseph's Day, and you'll get another chance to see Mardi Gras Indians doing their thing on Super Sunday. Check out the events below and then book a hotel close to the action at bestneworleanshotels.com.
Molly's at the Market & Jim Monaghan's Parade
This annual event at Molly's at the Market (1107 Decatur Street) includes carriage riders, marching groups and throws, throws, throws! This year it takes place on Friday, March 13. See parade route.
Downtown Irish Club Parade CANCELLED
The Downtown Irish Club Parade takes to the streets on Friday, March 13 ths year. The shenanigans begin on the corner of Burgundy and Piety streets in the Bywater at 6 p.m. See parade route.
Irish Channel Parade CANCELLED
On Saturday, March 14, put on your green and head to the Irish Channel Parade which begins at the corner of Napoleon and Tchoupitoulas streets around 1:30 p.m., right after the St. Patrick's Day mass at St. Mary's Assumption Church. Throws from The Irish Channel St. Patrick's Day Committee, organized in 1947, include everything you need to make an Irish stew when you get home. See the new parade route here.
Super Sunday Mardi Gras Indian Processions CANCELLED UPTOWN
March 15 is Super Sunday in New Orleans. Here's your chance to see Mardi Gras Indian tribes in friendly competitions which include traditional dances and chanting. The biggest procession, put on by the New Orleans Mardi Gras Indian Council, takes place at noon at A.L. Davis Park at Washington and LaSalle streets. Learn more.
Italian-American St. Joseph's Parade in the French Quarter CANCELLED
On Saturday, March 16 at 6 p.m., the St Joseph's Society will present this popular procession in the Vieux Carré featuring spectacular floats, sparkling costumes, and lots of Italian-Americans handing out green, white and red beads, silk flowers and blessed fava beans. See parade route.
See more St. Patrick's Day events in New Orleans
« back to News