Mardi Gras King Cakes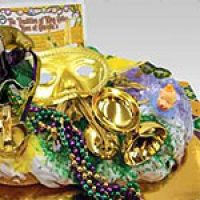 Take it from the locals: we have tried every king cake in the city and this is one of the best one around. They arrive fresh and delicious just like you walked into the bakery and bought it off the shelf. Try one or two today.
---
Mardi Gras Parade Stands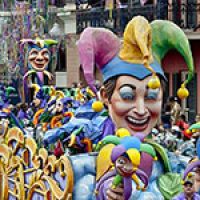 Want to skip the headache of claiming a spot along the parade route with blankets and chairs? Grab a spot in the grand stands with bleacher seating right on St. Charles Avenue. Book your tickets now.
---
Mardi Gras Shop
A crown-mask perches upon her feathered fascinator as a rainbow of color cascades down her visage and reflects the iron lace balcony of the historic PONTALBA building. Mistretta's 18"x 24" Limited Signed/Numbered/777 Edition are each hand-painted with metallic gold!
Going to a ball or another formal Carnival event? This Metairie store has one of the largest selections of tuxedos, suits, and accessories in the Greater New Orleans area. They carry Ike Behar, Jean Yves, Kenneth Cole, Couture 1910, Michael Kors – all the most popular brands and something for every budget whether you decide to buy or rent. They even have special tuxedos with a Mardi Gras theme!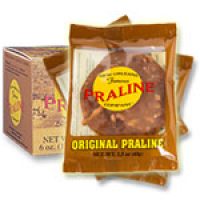 Since 1996, New Orleans Famous Praline Company has been selling the Traditional Creole Candy known as Pralines (praw-leens) to New Orleans locals and visitors from around the globe. Enjoy the ultimate "Taste of New Orleans" with their delicious pralines.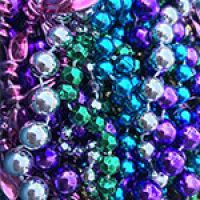 Everything you need for your Mardi Gras celebration. Beads by the Dozen sells beads of all kinds, hats, masks, stuffed toys and more. Check out their custom creations if you're interested in something really unique.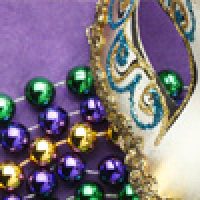 The Mask Store is one of the best Mardi Gras stores in town hands down! They carry a variety of masks from the best local and national artists. If you don't find the perfect fit, they can have a custom piece created just for you!