Although Mardi Gras is known as "the Greatest Free Show on Earth" and parades are free to view on public streets and boulevards, there's nothing like having a clean restroom, free-flowing drinks and great New Orleans food close by ­­– not to mention a balcony view of the crowds below after the parades. Check out these great packages either on or near the parade route and in the French Quarter after the parades.
---
Mardi Gras Packages
Enjoy all that Mardi Gras has to offer from the beautiful grand stand seating right on the parade route. You'll have an up close spot to see all of the floats, marching bands and maskers, all with the comfort and ease of reserved bleacher seating. Includes access to portable restrooms, as well as food and beverage in the area. Great for the family. Packages start at $5.
Let the good times Nolé! All of the major Uptown parades pass directly in front Nolé Special Events Venue, conveniently located at 2001 St. Charles Ave. Watch the fun of Mardi Gras unfold from the Terrace Room windows of Nolé or enjoy reserved seating in their main area at the bar inside the venue.
Individual and group tickets are available. Packages include unlimited buffet, beer & wine, non-alcoholic drinks and unlimited usage of indoor restrooms. Group and individual packages available. Adult tickets from $75 per person. Prices will vary based on parade date.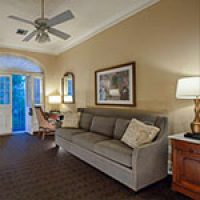 The Hotel Provincial is an intimate boutique hotel featuring lush tropical courtyards, located just blocks from Bourbon Street and the French Market. During Carnival Season, the hotel is offering multi-night stay discounts. Mention PARK and receive $10 off parking when you book on their website.
Bundle & Save on your next Mardi Gras vacation with the Holiday Inn's Breakfast and Parking Package! Book Now and enjoy a discounted package rate that includes room accommodations, breakfast for two, and overnight parking.
Mardi Gras at Mambo's, home to the only rooftop terrace on Bourbon Street. Celebrate Carnival from up high with festive Cajun and Creole food, fabulous drinks, restroom access and great views of the crowds below.
The Jazz Parlor @ Maison Bourbon is located on the 2nd floor and is connected to an expansive balcony which wraps Bourbon and St. Peter streets. There isn't a better place to eat, drink and watch Mardi Gras unfold!
Mardi Gras on Bourbon Street! Bourbon Heat has been voted New Orleans #1 dance club and is a favorite amongst locals. We are a multi-level venue that offers live music, DJ's, outdoor Courtyard dinning, VIP Bottle services, the hottest dance floor, and a 50 foot Bourbon Street balcony.
Olde Nola Cookery on Bourbon Street has two fabulous balconies overlooking the Carnival on Bourbon Street but it will be hard to keep your eyes off your plate. This restaurant serves up some of the best Cajun and Creole dishes in the city. Their Jazzy Crab Cake Platter is positively musical and the Bananas Foster Ice Cream Cake will have you second lining all day long.
Invite up to a hundred of your closest friends to join you on the balcony at Felix's Restaurant and Oyster Bar this Carnival season. Their Bourbon Street Balcony Room is the ideal spot to enjoy festive drinks, fresh seafood, and all your favorite Cajun and Creole dishes.
The good times roll on the river aboard the Riverboat CITY of NEW ORLEANS. This year, they're offering a festive Mardi Gras Party Package that includes a two-hour cruise, a buffet meal, three alcoholic beverages from their Mardi Gras specialty cocktails menu (unlimited soft drinks and juice for children), a Mardi Gras decorated reserved table, and a delicious Mardi Gras treat.