Although Mardi Gras is known as "the Greatest Free Show on Earth" and parades are free to view on public streets and boulevards, there's nothing like having a clean restroom, free-flowing drinks and great New Orleans food close by ­­– not to mention a balcony view of the crowds below after the parades. Check out these great packages either on or near the parade route and in the French Quarter after the parades.

On Parade Route Bourbon Street Balcony Restaurants Specials And Discounts
On Parade Route
Enjoy all that Mardi Gras has to offer from the beautiful grand stand seating right on the parade route. You'll have an up close spot to see all of the floats, marching bands and maskers, all with the comfort and ease of reserved bleacher seating. Includes access to portable restrooms, as well as food and beverage in the area. Great for the family. Packages start at $5.
---
Bourbon Street Balconies
Olde Nola Cookery on Bourbon Street has two fabulous balconies overlooking the Carnival craziness on Bourbon Street but it will be hard to keep your eyes off your plate. This restaurant serves up some of the best Cajun and Creole dishes in the city. Their Jazzy Crab Cake Platter is positively musical and the Bananas Foster Ice Cream Cake will have you second lining all day long.
The Jazz Parlor @ Maison Bourbon is located on the 2nd floor and is connected to an expansive balcony which wraps Bourbon and St. Peter streets. Please call for details on the Maison Bourbon Mardi Gras Packages, which include an open bar and buffet style menu!
Choose from four pages: Day packages (2pm-5pm: $150.65) | Evening packages (5pm-8pm: $176.85) | Night packages (8pm-11pm: $203.05) | Fat Tuesday: DAY time OR EVENING time OR NIGHT time Packages: (Same time periods as listed above) $229.25
Prices are per person and include:
Taxes and Gratuity
Three (3) hour open bar with Call Brand liquors
Guaranteed Access to Balcony
VIP Restrooms
Packages run from Friday March 1st – "Fat Tuesday" March 5th
Why just watch Carnival when you can be a part of it? With Mardi Gras VIP Bourbon Street Balcony Tickets from Rue Bourbon, you can throw beads to the crowds in the French Quarter after the parades from your coveted spot on one of three historic balconies at 201 Bourbon Street, 400 Bourbon and 240 Bourbon, above the famous Old Absinthe House.  
 
Mardi Gras VIP Tickets include an open bar, snacks (got to keep that energy up), and private party-room bathrooms – not to mention a Vieux Carré view straight off your bucket list. ­Choose from a variety of ticket options for the last three days of Mardi Gras: Bacchus Sunday, Lundi Gras Monday and the grand finale, Fat Tuesday, on which you can choose between two different time slots or an all-day pass.
---
Hotels With Packages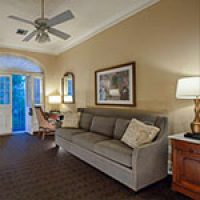 The Hotel Provincial is an intimate boutique hotel featuring lush tropical courtyards, located just blocks from Bourbon Street and the French Market. Book your room for Mardi Gras – during February 22 through March 5, 2019 -- and you will receive a Buy One Get One Free drink coupon at check-in for each room.
The Maison Dupuy is a luxury boutique hotel in the heart of the French Quarter, two blocks from Bourbon Street. Book your room for Mardi Gras – during February 22 through March 5, 2019 -- and you will receive 2 free cocktails (per room!).
---
Restaurants and Bars
Stop by this legendary restaurant for some down time between parades! With jazz brunches and New Orleans-style dinners that are to die-for, you're able to relax away from the crowds without missing a minute of the Mardi Gras excitement! Please call for details.
Invite up to a hundred of your closest friends to join you on the balcony at Felix's Restaurant and Oyster Bar this Carnival season. Their renovated Bourbon Street Balcony Room is the ideal spot to enjoy festive drinks, fresh seafood, all your favorite Cajun and Creole dishes, and the crowd down below.
---
Specials and Discounts
New Orleans School of Cooking offer of $3.00 off cooking classes during mardi gras season with the code crawfish2019