The Knights of Babylon parade will start at the intersection of Napoleon Avenue and Magazine Street in New Orleans.
The parade will proceed north until St. Charles Avenue, where the krewe will turn east (right).
The Knights of Babylon will follow St. Charles all the way to Lee Circle, around the circle and back on St. Charles northward to Canal Street.
At Canal, the parade will turn southeast on Canal and follow the road to Decatur St., where the parade ends.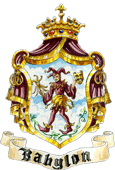 The Knights of Babylon were found in 1939, by a group of professionals called The Jester's Club. Their goal: to stage a first-class parade that would delight the public. Babylon is a firm believer in tradition and uses floats with the same designs as were used more than seventy years ago. What's more, they still have flambeaux lighting the parade and their king's float is drawn by a mule. Each float in the Knights of Babylon parade is a chapter in a rich history that only gets more fascinating with time.
Babylon consists of more than 300 knights led by their king, Sargon, who takes his title from the legendary Babylonian ruler. Tradition dictates that the current king's identity is never revealed to the public. The theme of the parade remains secret as well. After all, Mardi Gras is more fun with a little bit of mystery, don't you think?
Year founded: 1939
Membership: 310 male riders
Number of floats: 27 floats
Signature throw: LED Jester on a stick
Floats by Kern Studios »