The Legion of Mars parade will start at the intersection of Napoleon Avenue and Tchoupitoulas Street in New Orleans.
The parade will proceed north until St. Charles Avenue, where the krewe will turn east (right).
The Legion of Mars will follow St. Charles all the way to Lee Circle, around the circle and back on St. Charles northward to Canal Street.
At Canal, the parade will turn right and follow Canal to the intersection of Tchoupitoulas and Canal Street.
The parade turns right on Tchoupitoulas and ends at Poydras St.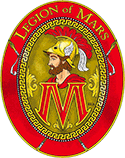 How does New Orleans salute active military, veterans, and first responders? With a red, white & blue patriotic procession, of course! The Legion of Mars parade is the first to honor all those who have served. Sponsored by the Cincinnatis Club, the krewe was founded by combat veterans in 2013.
A partnership with the City of New Orleans, the procession includes first responders, law enforcement personnel, and veterans from through the country, tossing Mars-themed throws. A highlight of the parade is a float carrying Purple Heart recipients (Wounded Warriors). They ride free of charge thanks community sponsors and the krewe.
Along with their parade, Mars participates year-round in military related philanthropy, including feeding Veterans on Veterans Day at the VA hospital. The krewe also helps active military, veterans, and first responders when they are in need, such as following natural disasters.