The Krewe of Tchefuncte parade begins in front of Salty's Marina.
The krewe floats south to the Maritime Museum.
After passing, it loops around and docks on the north side of the Madisonville Bridge on Madisonville Riverfront.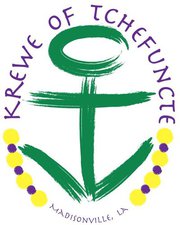 The Krewe of Tchefuncte, organized in 1973, is a boat parade that cruises the Tchefuncte River in Madisonville on the Sunday before Mardi Gras.
The boat parade celebrates maritime life on the historic river. Founded in 1817, Madisonville is one of the oldest communities in Louisiana and is the oldest permanent settlement in St. Tammany Parish. The community is also known for its popular Wooden Boat Festival in October.
While most Mardi Gras Krewe's charge yearly dues and have a closed membership, the Krewe of Tchefuncte is open to all boaters on a first-come basis for a small registration fee.