The Krewe of Freret parade will start at the intersection of Napoleon Avenue and Tchoupitoulas Street in New Orleans.
The parade will proceed north until St. Charles Avenue, where the krewe will turn east (right).
The Krewe of Freret will follow St. Charles all the way to Lee Circle, around the circle and back on St. Charles northward to Canal Street.
At Canal, the parade will turn right and follow Canal to the intersection of Tchoupitoulas and Canal Street.
The parade turns right on Tchoupitoulas and ends at Poydras St.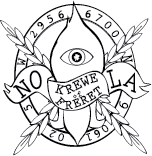 The Krewe of Freret paraded for more than 40 years until the mid-1990s. In 2011, the resurgence of the krewe began with seven Loyola graduates who wanted to unify enthusiastic young professionals and infuse vigor into Carnival while revitalizing the Freret corridor.
Today, the co-ed Krewe of Freret is known for its penchant for locally produced throws, including hand-decorated masks the members create themselves.
Every year, Krewe of Freret royalty is crowned at a public coronation ceremony held at Royal Street and Elysian Fields Avenue immediately preceding Krewe du Vieux and Krewe Delusion. Other events include a Black-Tie Ball with popular local performers. Ticket sales benefit the Son of a Saint organization.
Year founded: 2014
Membership: 500 male and female riders
Number of floats: 18 floats + 3 superfloats
Signature throw: handcrafted masks
Floats by Kern Studios »