The Krewe de Paws of Olde Towne line-up on Ciruti Street and begin the parade at the intersection Robert Street.
The Krewe travels three blocks down Robert Street until reaching Second Street where they make a left.
They follow Second Street until they reach Erlanger Street where they take a left.
The Krewe takes a left on Erlanger and another left back on to 1st Street a block later.
They take 1st Street to Cousin Street, where they parade makes right turn.
They travel one more block to reach Carey Street where they make a left and head a block south to the parades conclusion.
New this year!
2023 Theme: "Back in the Saddle Again"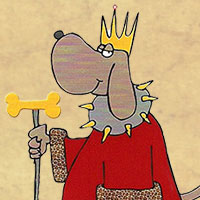 Founded in 2009, Olde Towne Slidell's canine carnival krewe is based at Café Du Bone Dog Bakery and Boutique.
Members of the krewe parade their costumed pooches in wagons, strollers and shopping carts. Non-marching dogs are welcome along the route as well. (This is the only time you can bring your dog to a parade).
The goal of the Krewe of Paws is threefold: to have a lot of fun, bring attention to Historic Olde Towne Slidell, and to raise money for a number of worthwhile animal assistance groups.