The Krewe of Caerus will use the Metairie Westbound route and begin at the intersection of Bonnabel Blvd. and Nero Street.
The parade proceeds to Veterans Memorial Blvd. where it takes a right until it reaches Severn Ave.
At Severn, the parade takes a right heading north to 17th St. where it makes a U-turn.
The parade then comes back south on Severn til it gets to Veterans Memorial Blvd. and makes a right heading west.
The parade continues on Veterans Memorial Blvd and turns left just prior to Clearview Parkway.
The parade ends at Clearview Shopping Center, new location for Family Gras.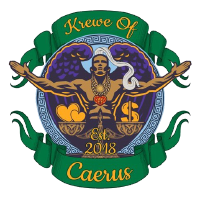 The Krewe of Caerus is dedicated to the son of Zeus. He is the Greek god of opportunity, luck and favorable moments. He is young and beautiful as opportunity obviously never gets old, and beauty is always opportune. He stands on tiptoe because he is always running, and has wings in his feet to fly with the wind.
The parade is expected to have 200 riders on 14 floats. Some floats will be designated for families, including children. Check back for more information as the date of the inaugural parade approaches.
Year founded: 2023
Membership: 200 riders
Number of floats: 14 floats