The Krewe of Dionysus parade starts on Berkley Street.
They travel on Berkley Towards Westchester Blvd.
There they take a left on to Westchester Blvd.
Their next turn is a right on to Highway 11.
The parade follows Highway 11 all the way to Highway 190 (Gause).
The parade takes a right on to Highway 190, taking it to the end of its course, near the intersection of 190 and Kensington Boulevard (Rouses).
New this year!
2023 Theme: "A Day at the Races"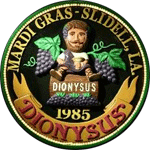 The Krewe of Dionysus was founded in 1985 by a group of Slidell businessmen intent on bringing an old-fashioned, family-oriented Mardi Gras parade to the Camellia City.
Dionysus (Bacchus in Roman Mythology) is the ancient Greek god of fertility and wine, According to legend, he had a dual nature and could bring joy and divine ecstasy, or a brutal and blinding rage, reflecting the dual nature of wine.
The 350+ member krewe parades with around 18 floats, including 11 double-deckers. The king and queen are chosen at the Coronation Ball from the krewe's maids and members of the King's Club.
Year founded: 1985
Membership: 350 male riders
Number of floats: 18 floats including 11 double-deckers