The Krewe of Dionysus parade starts at the intersection of Spartan Drive and Highway 11.
The parade follows Highway 11 all the way to Highway 190 (Gause), where the parade will turn east (right).
From 190, the parade will end just east of the intersection for Highway 190 and Kensington Boulevard (Rouses).
New this year!
2024 Theme: "Great American Fiction"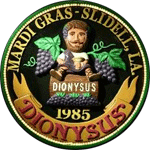 The Krewe of Dionysus was founded in 1985 by a group of Slidell businessmen intent on bringing an old-fashioned, family-oriented Mardi Gras parade to the Camellia City.
Dionysus (Bacchus in Roman Mythology) is the ancient Greek god of fertility and wine, According to legend, he had a dual nature and could bring joy and divine ecstasy, or a brutal and blinding rage, reflecting the dual nature of wine.
The 350+ member krewe parades with around 18 floats, including 11 double-deckers. The king and queen are chosen at the Coronation Ball from the krewe's maids and members of the King's Club.
Year founded: 1985
Membership: 350 male riders
Number of floats: 18 floats including 11 double-deckers