The Mystic Krewe of Femme Fatale parade will start at the intersection of Napoleon Avenue and Magazine Street in New Orleans.
The parade will proceed north until St. Charles Avenue, where the krewe will turn east (right).
The Mystic Krewe of Femme Fatale will follow St. Charles all the way to Lee Circle, around the circle and back on St. Charles northward to Canal Street.
At Canal, the parade will turn right on Canal until it reaches Tchoupitoulas Street, where it will turn south (right).
The parade will end at the intersection of Tchoupitoulas Street and Poydras Street.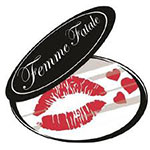 The Mystic Krewe of Femme Fatale, founded in 2013, parades Uptown on the first Sunday of Mardi Gras season. Femme Fatale was the first krewe founded by African American women for African American women, although all women are welcome. Their colors are candy apple red, black and white and their signature throw is a designer ladies compact, symbolizing a constant inward and outward reflection. The Mystic Krewe of Femme Fatale produces a number of hugely successful community engagement events including its annual "Say Yes to the Prom Dress," which provides gowns and accessories - free of charge - to hundreds of teenage girls around the city.
Cherchez La Femme, a 40-member all-female dance krewe comprised of members belonging exclusively to Femme Fatale, performs choreographed dance routines in the parade to old school and new school R&B, and hip hop favorites. Along with the Femme Fatale parade, the women have appeared in PJ Morton's New Orleans Girl video, the Krewe of Boo Parade, the Krewe of Jingle Parade and Pelican's home game. The group's costumes suggest the mystique of a femme fatale and can play on any alter ego.
Year founded: 2013
Membership: 750 female riders
Number of floats: 20 floats
Signature throw: bejeweled mirror compacts
Floats by Kern Studios »