Twelfth Night, January 6
While Mardi Gras Day (Fat Tuesday) is March 5 this year, the festivities actually begin much earlier. There are three parades on Twelfth Night, January 6, the official start of Mardi Gras, around 40 processions in February, and close to 30 krewes take to the parade route in March. This month, come experience the traditions, eat a little king cake, and whet your appetite for what's to come. Here's what up in January.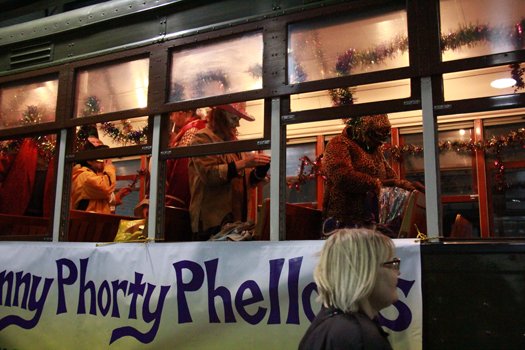 This annual walking parade, founded in 2008, honors the Patron Saint of France, the Maid of Orléans. Coincidentally, Joan of Arc's birthday was on January 6th.
This fascinating 14-block walking parade features medieval costumes and music, characters on horseback, jugglers, knights, stilt walkers, giant puppets, handmade medieval throws and, of course, king cake. The krewe says it is "an eclectic, authentic New Orleans blend of whimsical and reverent, sacred and secular, spectacular and contemplative." The parade begins at 6 p.m. See parade route.
After participating in a "Carnival Countdown," the Phunny Phorty Phellows (PPP) climbs aboard the St. Charles Streetcar for a night filled with merriment and tradition. Their motto is, "A little nonsense now and then is cherished by the best of men."
The Phellows first hit the streets in 1878 but there was a long break between 1898 and 1981. Krewe members dress in satiric costumes, reflecting the issues of the day. The Queen and "Boss" (their version of a "King") are determined by whoever finds the babies in two king cakes (very democratic)! The fun starts at 7 p.m. See parade route.
One of the city's newest krewes is the Société Des Champs Elysée, a.k.a., La Société Pas Si Secrète Des Champs-Élysées (The Not So Secret Society of the Elysian Fields).
Founded in 2017, this krewe of 40 rides the Rampart - St. Claude Avenue Streetcar. They pass the Phunny Phorty Phellows on the St. Charles Streetcar at Canal between Carondelet and Rampart for a meeting of the krewes. Last year, the krewe was joined by Al "Carnival Time" Johnson. The streetcar parade rolls at 7:30 p.m. See parade route.
Photo credit: phunnyphortyfellows.com
Brush Up on Your Mardi Gras History
« back to News