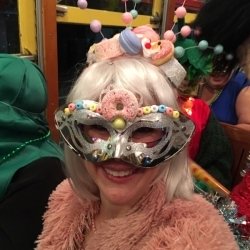 Krewe Says It Will "Stroll Instead of Roll."
Twelfth Night will be short one streetcar parade this year, as a result of the collapse of the Hard Rock Hotel.
According to David Roe, captain of The Societé des Champs Elysée, the RTA told the krewe that Rampart Street would not be cleaned up in time for the streetcar to roll on January 6.
RTA offered a different streetcar line, but since it would involve shuttle buses and the line would not end in their neighborhood, the krewe chose instead to simply have a brass band play through the neighborhoods, leading revelers to the annual ball. Learn more.
The Phunny Phorty Phellows and the Funky Uptown Krewe will roll as normal on Twelfth Night. They run on the St. Charles Streetcar line which was not affected.
Photo: societedeschampselysee.org
« back to News