The parade begins at the corner of Bienville and N. Front Street.
It then continues 3 blocks on Bienville to make a right onto Chartres Street.
The parade continues down Chartres Street with pauses for royalty toasts from the balcony of the Historic New Orleans Collection Williams Foundation Building and the sword blessing ceremony at Saint Louis Cathedral.
When it reaches Ursuline, it makes a right and then makes another right onto Decatur.
The parade continues on Decatur with a pause at the Joan of Arc statue to sing "Happy Birthday" and continues on Decatur to Washington Artillery Park (the sidewalk amphitheater across from Jackson Square) where the parade concludes with a king cake ceremony and disbands.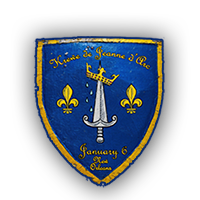 Founded in 2008, Joan of Arc is an annual walking parade honoring our unofficial patron saint, "The Maid of Orleans". The event melds medieval revelry with the traditions of Mardi Gras. It's a celebration of the city's French culture and heritage as well as St Joan of Arc's birthday which coincides with Twelfth Night.
The procession is inspired by Joan's time in France in the 1400s, when she liberated the citizens of Orleans, France from British siege. Honorary characters include the Maid of Honor, Joan of Arc, on horseback in a white robe with faux armor breastplate. Midway through the parade, she receives her sword after a blessing at St. Louis Cathedral.
Joan is joined on the parade route by Queen Yolande of Aragon and King Charles VII, the "Dauphin" who became King as a result of Joan of Arc's efforts. The Maid of Honor is chosen in a student Joan competition, while the Queen and King are community leaders. Parade goers dress in gold to look like the statue of Joan in the French Quarter, a gift to the City of New Orleans from France in the 1950s.