The Société Des Champs Elysée starts at North Rampart Street and Explanade Avenue, and proceeds southwest down North Rampart.
The procession continues until southwest until it reaches Canal St.
At Canal, it makes a sharp right for one block, then proceeds down Elk Place.
The krewe follows Elk Place past Tulane Avenue, where it becomes Loyola Avenue.
It continues down Loyola Avenue until just past Howard Avenue where it reaches Union Station.
The krewe then turns around and follows the same streetcar path in reverse until it reaches the starting point at Esplanade Ave.
The parade then continues down the streetcar path as Norht Rampart St. becomes St Claude Ave. and continues until it reaches the end of the line on Elysian Fields Ave.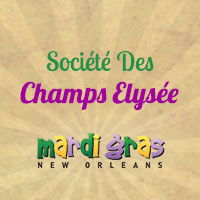 Celebrate Twelfth Night and the beginning of Carnival season with La Société Pas Si Secrète Des Champs-Élysées (The Not So Secret Society of the Elysian Fields), a.k.a, the Société Des Champs Elysée.
Since 2017, this band of 40 merry revelers has floated through the city on the Rampart - St. Claude Avenue Streetcar from Elysian Fields and St Claude, across Canal, past the Superdome, to Union Station and back. When everything times out as planned, the krewe passes the Phunny Phorty Phellows who ride the St. Charles Streetcar. Stand at Canal between Carondelet and Rampart if you want to witness the meeting of the krewes.