The Carnival of Covington begins at the intersection of North Columbia Street and Jefferson Street in Covington, Louisiana.
The parade will follow North Columbia Street south until it reaches East Boston Street, where it will turn west.
From East Boston, the parade will go southwest on South Jefferson Avenue.
At the intersection of South Jefferson and East 15th Avenue, the krewe will turn northwest and follow 15th.
On South Taylor Street, the parade will turn towards the northeast and proceed until it reaches at West 23rd Avenue.
On 23rd, the parade will turn southeast and venture back down to North Jefferson Avenue.
From North Jefferson, the krewe will go back to East 21st and go east.
The parade will end where it began at the intersection of North Columbia Street and North Thread Street.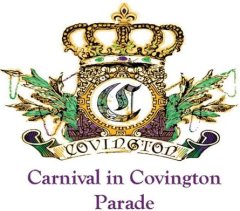 Mardi Gras Day on the Northshore begins at 10 a.m. with the 24-float Carnival in Covington. More than 450 riders will celebrate with the theme, "This and Dat." Float titles include Red Beans and Rice with Abita Roasting, Crawfish and Beer with St John's Fools of Misrule, and Lady and the Tramp with Southern Hotel. The parade culminates at Tammany Gras, a free party at Covington Trailhead with live music, food and family fun.
Year founded: 2017
Membership: 450 riders
Number of floats: 24