Pre-parade ceremonies begin at 11:15 at the starting point of St Louis and Bourbon.
Travels on Bourbon to St. Ann, then turns right
It continues down St. Ann for a block, then turns right onto Royal.
The parade continues down Royal, then turns right onto Iberville
From Iberville it turns right again, back on Bourbon.
Parade disbands on the corner of Bourbon and Conti.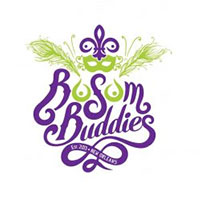 The Krewe of Bosom Buddies & Breast Friends is a walking krewe that parades in the French Quarter on the Friday before Mardi Gras. Founded in 2013, they set out to create "a laid-back, inexpensive, fun, colorful and fearless walking krewe full of fabulous women and the men who support them." Every year, the krewe dresses colorfully in tutus, bras and hats that reflect that year's theme. Their signature throws are hand-decorated bras.