The Krewe of Nefertiti parade will start at the intersection of Bullard Avenue and Lake Forest Blvd. in New Orleans East.
The parade will proceed West along Lake Forest Drive until Read Blvd., where the krewe will turn south(left).
The Krewe of Nefertiti will follow Read Blvd. south until Chef Menteaur Hwy, where the parade will loop back up (north).
The krewe will follow Read back up about until shortly past Dwyer Road where the parade will end.
New this year!
2023 Theme: "Nefertiti Roar"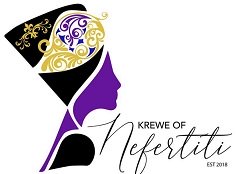 The Krewe of Nefertiti was established in 2018 as an all-female social aid and pleasure club. The women believe in "cultivating the community through volunteer service, fundraising and celebration. Their motto is: "We serve before we roll." In 2020 they permanently moved their parade route to East New Orleans.
The Krewe is named after the ancient Egyptian Queen Nefertiti who some believe ruled for a time after the death of her husband and before King Tut took the throne. A bust of Nefertiti now is one of the most copied works of ancient Egypt.
Year founded: 2018
Membership: 200 all-female krewe
Number of floats: 14 floats
Signature throw: A different jeweled item each year
Motto: "We serve before we ride"