The Krewe of Orpheus parade will start at the intersection of Napoleon Avenue and Tchoupitoulas Street in New Orleans.
The parade will proceed north until St. Charles Avenue, where the krewe will turn east (right).
The Krewe of Orpheus will follow St. Charles all the way to Lee Circle, around the circle and back on St. Charles northward to Canal Street.
At Canal, the parade will turn southeastward (right).
The krewe will follow Canal to the intersection of Canal and Tchoupitoulas Street, where the parade will turn south (right).
The Krewe of Orpheus will follow Tchoupitoulas to Julia Street, where it will turn east (left).
The parade will continue on Julia St. until it reaches Convention Center Blvd where it will take a right and end at the Convention Center and Henderson St.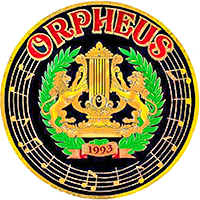 Founded in 1993, the Krewe of Orpheus takes its name from Zeus and Calliope's musically inclined son. Founding members include musician/actor Harry Connick, Jr. and his father, Harry Connick, Sr., former New Orleans district attorney. With their first parade in 1994, the Krewe of 700 members established itself as a super Krewe. They were the first super Krewe to allow both male and female riders.
The krewe's throws include a number of sought-after items, including light-up Orpheus medallion beads, three different types of doubloons - Captain's, Krewe, & Musical Legends, four-foot-long stuffed dragons, and their prized throw is a custom decorated tambourine.
Notable floats include the Dolly Trolley, the horse-drawn bus that was used in the opening of Hello Dolly with Barbra Streisand. There's also the Smoking Mary, an eight-unit float that looks like a steam locomotive. And everyone loves the three-unit, 139-foot Orpheus Leviathan Float, the first Carnival float to use extensive fiber optic lighting.
Over the years, Orpheus monarchs have included Fats Domino, Quentin Tarantino, Sandra Bullock, Glenn Close, Whoopi Goldberg, Stevie Wonder, Laurence Fishburne, Forrest Whitaker, Brad Paisley, Anne Rice and Toby Keith.
Unlike many Carnival events which are members-only, visitors are allowed to buy tickets to the black-tie Orpheuscapade, a musical extravaganza after the parade in the Ernest N. Morial Convention Center.
Year founded: 1993
Membership: 1500 male and female riders
Number of floats: 38 floats (including tandems)
Floats by Kern Studios »
---
Krewe of Orpheus Photos...