The Nandi parade starts on Lapalco Blvd.
Continuing east until reaching Ames Blvd. where they turn left and head north.
Following Ames Blvd. Until reaching the Westbank Expwy. and turning right.
The parade ends around the intersection of the Westbank Expwy and Barataria Blvd.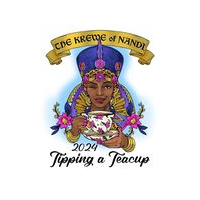 The Krewe of Nandi is an all-female organization on the Westbank, open to all women 21 years and older. Established in 2022, the Krewe's motto is "Love Her, Cherish Her, Empower Here." Their purpose is to combine their passion for Mardi Gras with their passion for community services. Their colors are navy blue, fuchsia and gold. Their signature throw is a hand-decorated teacup.
The krewe was named after Queen Nandi kaBhebe of eLangeni who was born in 1760 and was the Queen Mother of the Zulu Nation. She was married to King Senzangakhona and was the mother of Shaka Zulu.
The name "Nandi" means "the sweet one" in isiZulu. An incredible beauty, Nand was a woman of courage, who made her decisions and stuck to them. Because of her strong will and resilience, she set an example to millions of women not to settle for less.
Year founded: 2022
Membership: 300 female riders
Number of floats: 17 floats