BOOK HOTEL
The Krewe of Alla parade will start at the intersection of Napoleon Avenue and Tchoupitoulas Street in New Orleans.
The parade will proceed north until St. Charles Avenue, where the krewe will turn east (right).
Alla will follow St. Charles all the way to Lee Circle, around the circle and back on St. Charles northward to Canal Street.
At Canal, the parade will proceed right until it reaches Tchoupitoulas Street, where it will turn south (right).
The parade will end at the intersection of Tchoupitoulas Street and Poydras Street.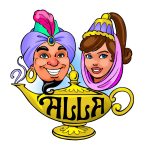 For 82 years, the Krewe of Alla was all-male. Those days are over, and now one of the city's oldest parades is officially co-ed. Founded in Algiers in 1932, the krewe now parades Uptown. Since its formation, the krewe has staged over 75 parades, including 11 river parades. Alla is known for bright floats, generous throws, and multiple bands and marching groups.