The Krewe of Alla parade will start at the intersection of Napoleon Avenue and Tchoupitoulas Street in New Orleans.
The parade will proceed north until St. Charles Avenue, where the krewe will turn east (right).
Alla will follow St. Charles all the way to Lee Circle, around the circle and back on St. Charles northward to Canal Street.
At Canal, the parade will proceed right until it reaches Tchoupitoulas Street, where it will turn south (right).
The parade will end at the intersection of Tchoupitoulas Street and Poydras Street.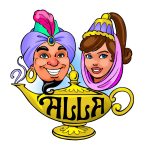 The Krewe of ALLA is one of the oldest and most storied krewes in Carnival. Established in 1932 during the depths of the Great Depression in Algiers, La., ALLA will celebrate its 90th anniversary in 2022. The krewe, now co-ed, has called the Uptown New Orleans parade route home since 2014 and is known for bright floats, generous throws, and multiple bands and marching groups.
Other krewe events during the year include ALLA's Coronation Dinner at Antoine's in June and the Krewe of ALLA Bash in January.
Year founded: 1932
Membership: 500 male and female members
Number of floats: 22 floats
Signature throw: hand decorated genie lamps