The Krewe of Excalibur will use the Metairie Westbound route and begin at the intersection of Bonnabel Blvd. and Nero Street.
The parade proceeds to Veterans Memorial Blvd. where it takes a right until it reaches Severn Ave.
At Severn, the parade takes a right heading north to 17th St. where it makes a U-turn.
The parade then comes back south on Severn til it gets to Veterans Memorial Blvd. and makes a right heading west.
The parade continues on Veterans Memorial Blvd and turns left just prior to Clearview Parkway.
The parade ends at Clearview Shopping Center.
New this year!
2023 Theme: "Broadway Knights"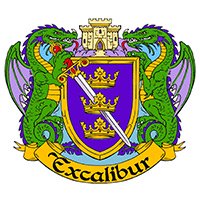 Founded in 2000, Excalibur was named for the legendary sword of King Arthur. Formed by approximately 250 men and women members, the Krewe of Excalibur's medieval theme lends itself to grand costuming and a unique look.
Led by a procession of fully-suited knights on horseback, this krewe features a number of animated floats in its coterie, and it has developed a following with fans in Jefferson Parish. Each year 5 Golden Sheilds are given to 5 lucky adults. The adult who receives a shield gets a free ride in the parade next season. Along with a ball and pre- and post-parade parties, Excalibur offers events for members throughout the year.
Year founded: 2000
Membership: 225 male and female members
Number of floats: 20 floats
Signature throw: hand decorated wooden shields
---
Krewe of Excalibur Photos...