Parade starts at Phil's Marina Cafe, passes through the marina basin, goes past Art and Vicky's The Dock and enters "the Clipper canal" between Clipper Estates (Cuttysark Cove) and Eden Isles subdivision (Southern Star Street). Traveling the south side of "the Clipper Canal" first, the parade reverses course at a turnaround at Clipper Drive between Blackfin Cove and Valiant Lane cul-de-sacs. Returning to the main canal, the parade then turns north to what is known as the "Firehouse Canal." Parade travels north along the Eden Isles side of the canal to the East Eden Isles Boulevard bridge where it again reverses course.
Parade then goes south retracing its route down the "Firehouse Canal" on the Marina Drive side and again passes The Dock continuing southward then west along the south side of the Lakeview Drive canal toward Highway 11 (Pontchartrain Blvd). It then turns northward on the West side of the canal (Highway 11 side) passing various bars and Restaurants like Tooloula's and The Landing and reverses course at the West Eden Isles Boulevard bridge.
Parade again retraces its route going Southward along the East side of the canal along Moonraker Drive then East along the North side of the Lakeview Drive Canal (Clipper Estates side) until finally ending at Art and Vicky's The Dock.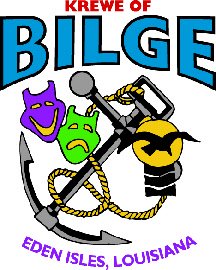 Sometimes floats float! The Krewe of Bilge is a Mardi Gras boat parade in Slidell, Louisiana. For the last 40 years, Bilge has thrown beads, cups and other Carnival treasures to parade goers from the middle of Slidell waterways.
The Krewe of Bilge boat parade was founded by locals in 1978 and now includes over four hundred members. This can't miss event in Slidell has been honored as a "Top 20 Event" by the Southern Tourism Society multiple times.
Some great spots to catch the parade are at The Dock of Slidell off Lakeview Drive, along Highway 11 at Michael's Restaurant, The Landing, and Tooloula's, and on the east side of the parade route at the firehouse on Marina Drive.
Year founded: 1978
Membership: 400 female riders