The Krewe of Athena will use the Metairie Westbound route and begin at the intersection of Bonnabel Blvd. and Nero Street.
The parade proceeds to Veterans Memorial Blvd. where it takes a right until it reaches Severn Ave.
At Severn, the parade takes a right heading north to 17th St. where it makes a U-turn.
The parade then comes back south on Severn til it gets to Veterans Memorial Blvd. and makes a right heading west.
The parade continues on Veterans Memorial Blvd and turns left just prior to Clearview Parkway where it makes a U turn..
The parade ends at Houma Blvd. near Clearview Shopping Center.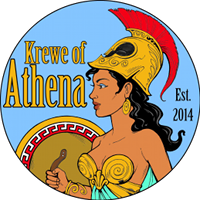 The Krewe of Athena Carnival Club, Inc. is an all-female Mardi Gras club in Greater New Orleans. Founded in 2014, the club is named after the Athena, the Greek goddess of wisdom, courage, inspiration, civilization, law and justice, just warfare, mathematics, strength, strategy, the arts, crafts and skill. Athena was, perhaps, the wisest, most courageous, and certainly the most resourceful of the Olympian gods. Her tree is the olive, representing peace, and the owl is her bird, representing wisdom.
Spearheaded by a group of Mardi Gras veterans, Athena was born out of the desire to create a Mardi Gras krewe open to professional women from diverse backgrounds. The krewe exists to promote a sense of community through sisterhood, service, fellowship and fun. Athena is committed to preserving and celebrating the rich traditions of Mardi Gras by hosting a beautiful street parade and grand Carnival ball.
Year founded: 2014
Membership: 475 female riders
Number of floats: 22 floats
Signature throw: custom decorated Fedoras