The Krewe of Titans parade will begin at the intersection of Spartan Drive and Highway 11.
The krewe will follow 11 all the way up to Highway 190 (Gause), where the parade will turn to the east (right).
From 190, the parade will end just east of the intersection for Highway 190 and Kensington Boulevard (Rouses).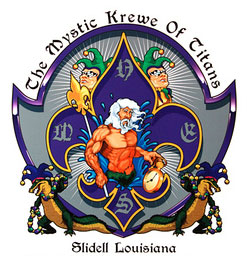 The Mystic Krewe of Titans parade takes place in Slidell on the New Orleans Northshore. In Greek mythology, Titans were immortal giants of incredible strength who had deep knowledge of old religion rituals and magic. Before the Olympians came into power, the Titans ruled the cosmos.
Founded in 2009 by a group of Mardi Gras veterans, Titan is a co-ed krewe composed of 125 members. Throws include cups with the Mystic Krewe of Titans logo, medallion beads, footballs, t-shirts, lighted tambourines, foam batons and necklaces. The organization prides itself on providing a traditional New Orleans Mardi Gras experience in a family friendly atmosphere. Along with a parade, members enjoy the Titans Mardi Gras Ball and the Titans Mardi Gras Getaway Cruise.
Year founded: 2013
Membership: 350 male and female riders
Number of floats: 16 floats