BOOK HOTEL
The Krewe Boheme lines up on Franklin Ave. near Dauphine St.
It proceeds down Franklin Ave and then turns right on Royal St.
It continues west on Royal St., crosses Elysian Fields Ave., and then takes a left on Esplanade Ave..
The parade goes down Esplanade for 2 blocks, and then turns right onto Decatur St.
Then, the krewe takes a right onto Dumaine St., where it continues until it reaches Royal Street again and takes a left.
They will head down Royal St. a few blocks and then turn on St. Peter St. until reaching Basin St. and turning left.
It will then end at the Joy Theater for the after party.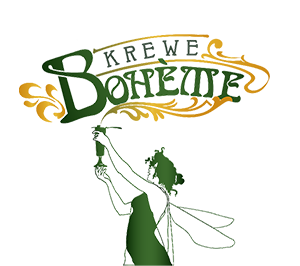 The Krewe Bohème is a marching parade which travels through the Marigny and the French Quarter. It is the first parade to roll after Twelfth Night. Their goal is to present a visual and auditory feast of mystery, artistry and fun. The procession is led by a symbol of the bohemian spirit, a green absinthe fairy, followed by several inner krewe marching clubs:
Krewe of Goddesses
The Merry Antoinettes
Krewe of R.U.M. (Really Unsophisticated Men)
Krewe of King James: The Super Bad Sex Machine
Krewe of Hellarious Wingnuts
Krewe of S.L.U.T.S. (Sexy Ladies Up to Something)
Krewe What Thou Wilt
Les ReBelles
Flora & Fauna
Skinz N Bonez
Dystopian Paradise
The Bayou Babes
Krewe D'Ensite
Krewe of Full Bush
Krewe de la Renaissance
Interrobang ‽ Parading Krewe
Glambeaux
Menage a Trike