Jasmine Batiste Makes Mardi Gras History as First
"Spy Queen."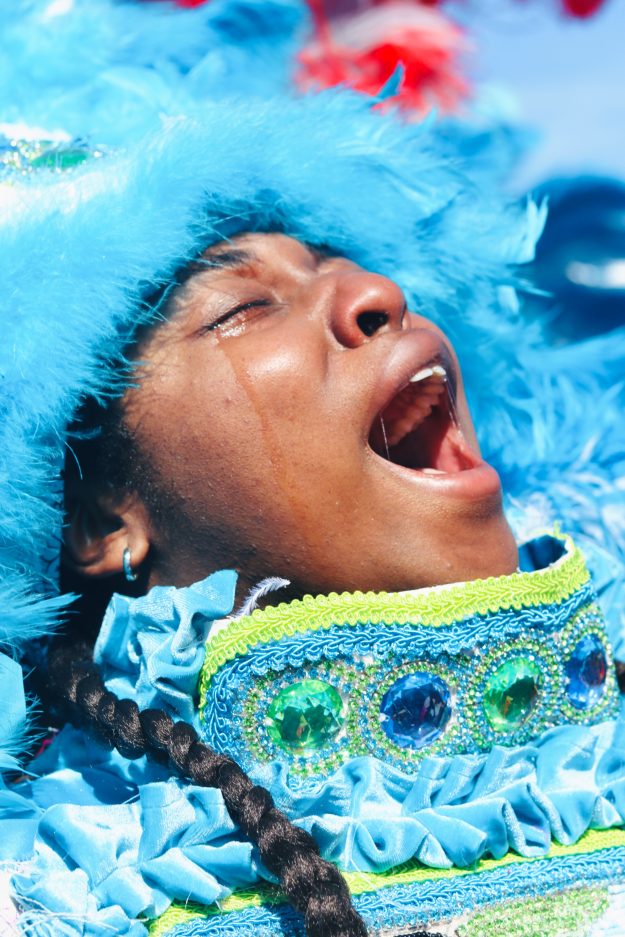 "The Spy Boy is the baddest of all the Indians. He is ahead looking for trouble.
Only a chosen few can be Spy Boy."
— Late Big Chief Larry Bannock of the Golden Star Hunters
In 2022, Mardi Gras parades were back after the pandemic but, in our opinion, that's not the only thing that made this year's Carnival historic. To us, it will be remembered as the year the world saw the first spy queen. That honor goes to 25-year-old Jasmine Batiste of the Mardi Gras Indian tribe the Wild Magnolias. And she became the first spy queen not because the role was given to her, but because she took it!

"I 'took' my position as a Spy Boy. Nobody gave it to me.
Your heart and soul has to be there."
– Big Chief Larry Bannock
A couple months before Mardi Gras, Aaron White, spy boy for the Wild Magnolias, passed away. According to Jasmine, "Aaron was getting ready, his colors were picked out, his patches were ready, and then he died. I was supposed to be in the front learning things from him, learning the talking side, how to play Indian, basically. So I took it upon myself–I knew what he knew–so I told Bo I think I should lead."
Bo is Big Chief Bo Dollis, Jr., son of the legendary Big Chief Bo Dollis, Sr. Bo acknowledged that Jasmine "might be ready" but still said "no."
"Bo didn't want me to get into any trouble," Jasmine explained. "He knows I'm a little firecracker and he thought about how the other tribes might react. He was worried about my safety. Still, I knew I had to prove myself. I said, 'I promise you I got the front.'"
Still, Bo said "no."
So on Mardi Gras morning Jasmine did what she had to do. She raced past Bo and the other Indians and just took her spot at the front of the procession. What was the reaction of the crowd? Applause!
Jasmine's suit was ready and so was she. She said, "Women in Mardi Gras culture—especially masking Indians—have always served as a beauty mark. I'm not one of those women. I knew I had to step up. It was now or never."
Like the spy boys who came before her, the crowd heard Jasmine coming before they saw her. When she first got into the crowd, Jasmine was nervous but something in her head said, "Do what you feel, do what you know."
"I just walked up the street, talking everybody up. This man was happy to see me and he knew I was acting as spy boy, so he yelled "Spy Queen!"
It was official. New Orleans had it's first spy queen!
Jasmine said, "It meant so much to me to play this role, to be a role model for other female Indians. I saw this little girl in purple and I called her out. She got shy when I opened up but I told her, 'Don't ever stop dancing, little mama. That's how you play Indian.'"
Jasmine believes that anyone who wants to lead the front, has the confidence and can take the pressure, should do it. "Even if you're scared," Jasmine said, "Push yourself to new heights."
Still, a tear rolled down Jasmine's face when they were doing the traditional Indian Red prayer chant. I opened up my cuff where I had I placed a picture of Aaron. I thought there was no other day he would rather be alive than on Mardi Gras Day, and it choked me up."
While this was Jasmine's first year to mask, she comes from a long line of Mardi Gras Indians. She has a cousin who is a big chief and another cousin who is a big queen.
"It's in my bloodline," she said.
Jasmine, a middle and high school band director for the Lafayette Public Schools, also plays saxophone with Big Chief Bo Dollis and the Wild Magnolias. This month, the group will be performing at French Quarter Fest, Jazz Fest and at the Ascona Festival in Switzerland.
A graduate of Southern University, she went to high school at Warren Easton (where she served as the 5th female drum major in Easton history) and NOCCA. In 2012, she was one of five members of the Preservation Hall Junior Jazz Band to perform for the 50th Anniversary Concert at Carnegie Hall. She counts Michael Pellera, Khri Lee, Chris Severin, Gerald French, and Keith Hart among her mentors, along with her former female band director Ms. Mo.
Jasmine's mother, father, grandmothers and entire family are proud of their Spy Queen.
"My mother's in love with me," Jasmine said with a laugh. "Posting pictures every second. She loves the woman I've become. My grandmothers are proud, too, and one of them is pretty hard to please."
Jasmine said that when her girls smile, she feels like she won the lottery. "When I make them happy, that's it," she said.
Photos below courtesy of Christine DuMouchel Photography