"It's Now or Never"
for the Rolling Elvi's First Solo Parade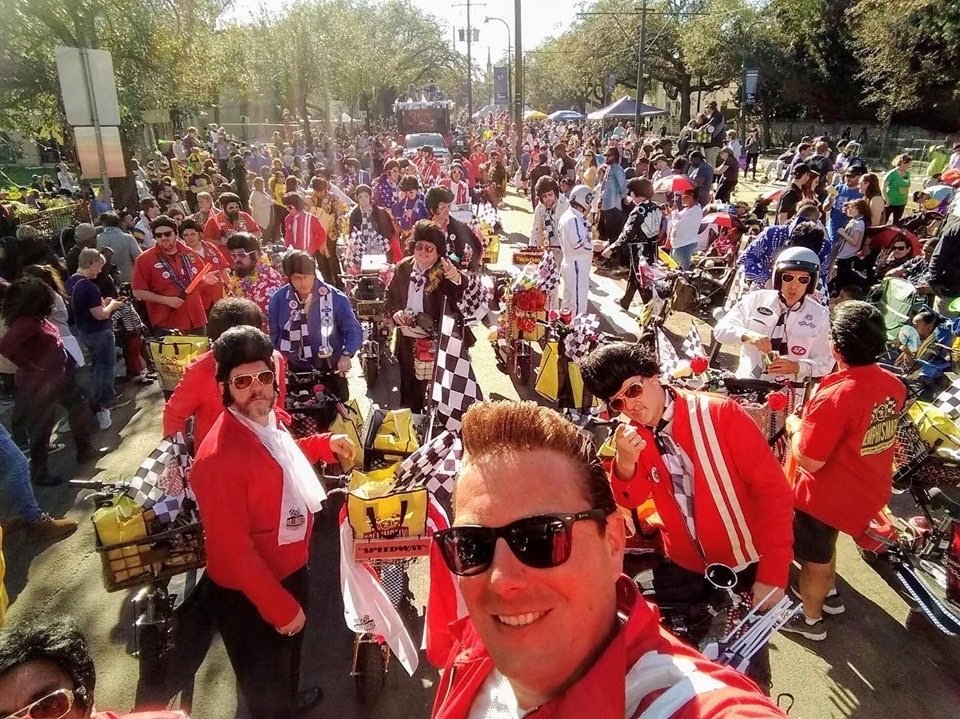 Elvis Presley died 42 years ago this Friday and the Krewe of the Rolling Elvi will honor the King in the French Quarter on the anniversary of his death with a 13-block procession starting at 8:15 p.m.
"We celebrate the day he was born and the day he died every year," 4-year Elvi member Jason Mangone said. "But this is the first year we've actually had our own parade. The fact that it's in the French Quarter is going to make it so much fun."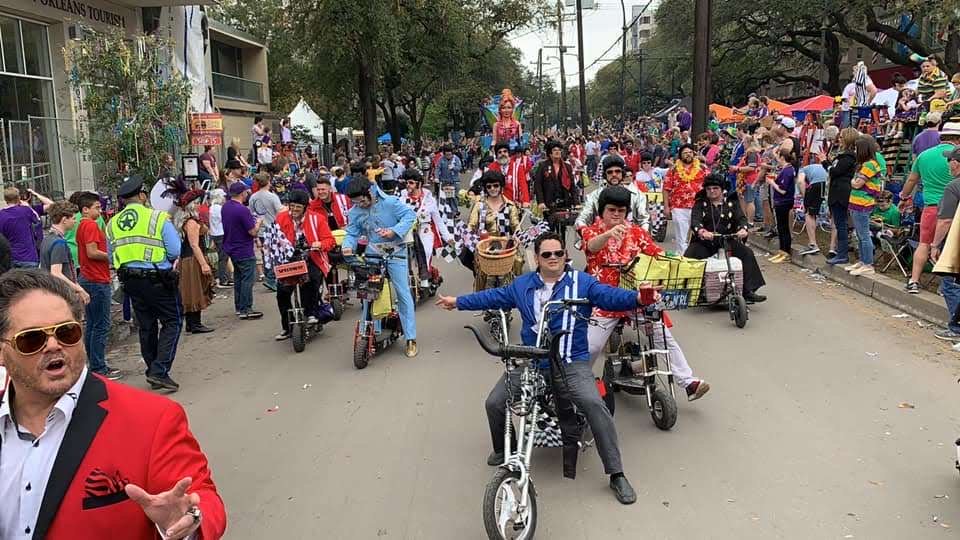 Around 150 costumed Elvi in bejeweled costumes sunglasses, and slicked back pompadours will participate in Friday's parade. Like Mardi Gras Indians, some members even sew their own suits (in this case 70s-era Elvis jumpsuits). Ten members (including Jason) will ride motorcycles while, to keep the city's permit price down, the rest will be "Strolling Elvi," according to a krewe spokesman.
The parade will also include female members of the Elvi (known as Priscillas and Ann-Margrets), as well as members of the Cherry Bombs, Streetcar Strutters and Muff-a-Lottas marching groups. The parade will end at the House of Blues, where the krewe will conduct an Elvi Summer Clambake party (inspired by the movie) with music by the Pine Hill Haints. The public is invited to attend. Admission is $20. Purchase tickets here.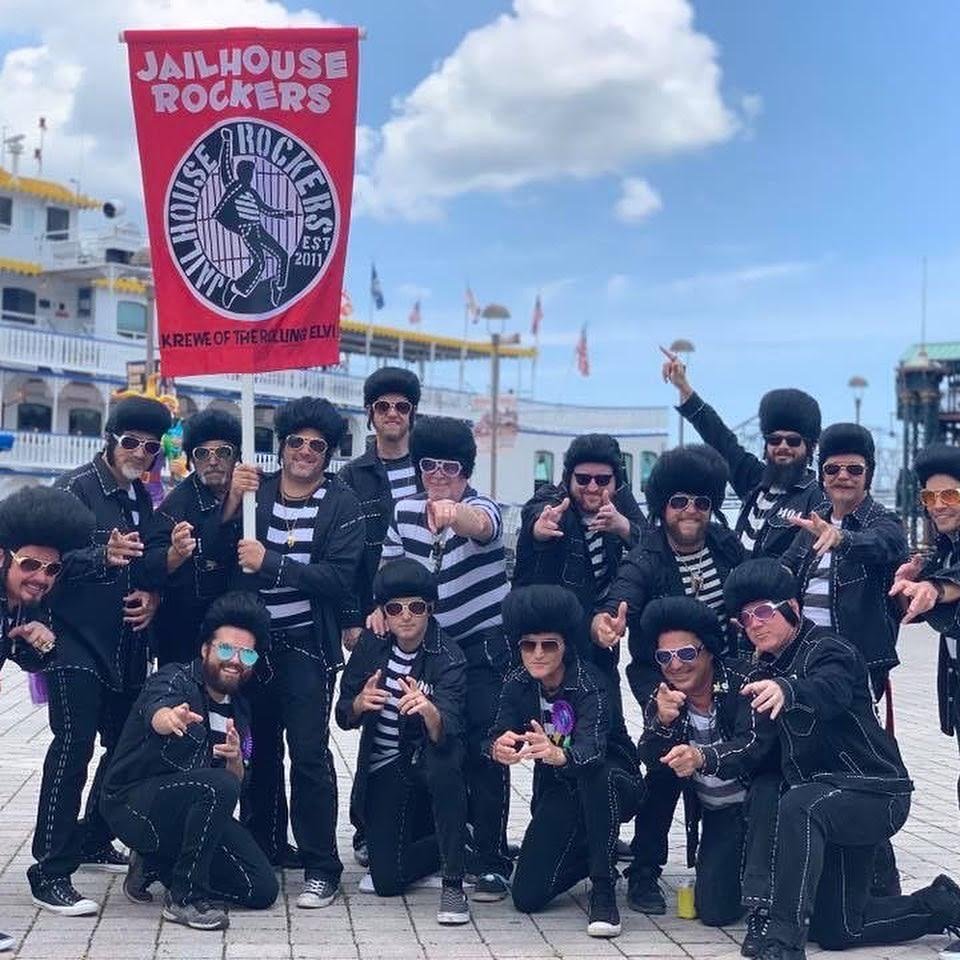 The parade will line up at 8 p.m. at Kerry Irish Pub, 331 Decatur St. and will roll at 8:15 p.m. It will travel uptown on Decatur Street, turn right on Iberville Street, right on Chartres Street, left on St. Peter Street, left on Royal Street, left on Conti street, and right on Decatur Street, before ending up at the House of Blues at 225 Decatur St. at 9 p.m.
Along with celebrating the King's birth on Jan. 8 and his death on August 15, they parade in Muses, Iris and Carrollton during Mardi Gras as well as other events throughout the year. The themes change from year to year, usually based on one of Elvis' movies or songs. Last year, in what would have been the year of Elvis and Priscilla Presley's 50th wedding anniversary (had they not divorced), many krewe members paraded as brides and grooms.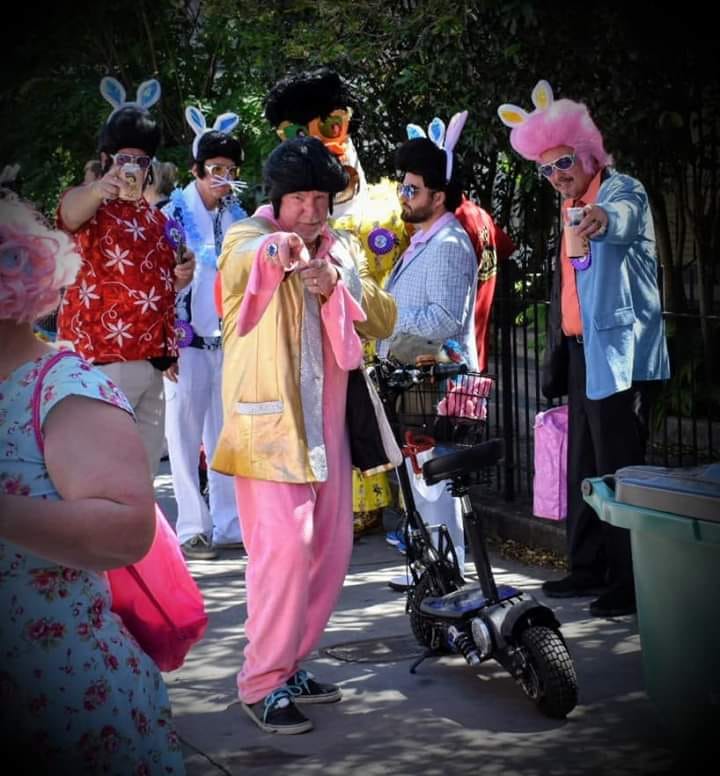 "We just have a really good time," Mangone said. "You get to meet people of all ages from all walks of life. Like the King, the Elvi are cool!"
Mangone expressed sadness that Rolling Elvi Co-Founder Bruce Macon Moore won't be there for the krewe's first solo parade. Moore lost his battle with cancer in April of this year at the age of 50. Like Elvis, he'll be there in spirit.
>>Find a Restaurants on the Parade Route
>>Make a Night of It! Book a Hotel in the French Quarter
>>Read More About Mardi Gras Marching Groups Here
« back to News