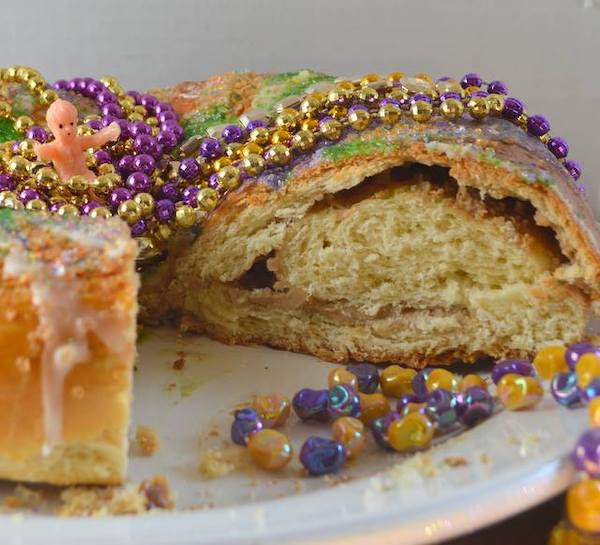 Don't let Mardi Gras go by without celebrating. Get in your fill of king cake and enjoy some of the activites below. New Orleans is under Phased Reopening Guidelines, but there are still many ways to celebrate:
Krewe of Joan of Arc – Drive-by event on January 6 on the West Bank featuring storytelling at its best. Read our blog.
Phunny Phorty Phellows – Streetcar parade on January 6 with special social distancing rules in place.
Funky Uptown Krewe – A socially distant scavenger hunt beginning on January 6. Hand-painted records, their signature throw, will be scattered along the St. Charles Avenue streetcar line. You'll find clues on Instagram.
Krewe of ALLA Scavenger Hunt – Get clues on their Facebook page to the wearabouts of special Alla throws including their signatured, hand-decorated Genie lamps. Learn more.
Shoebox Float Parade – Whole Village Art Therapy, a nonprofit based in Uptown, is offering shoeboxes and art materials for kids to create homemade shoebox floats, which will then join in a virtual parade hosted by Calliope Puppets. Learn more.
Floats in the Oaks – A drive-through float-viewing fundraiser. Vehicles will drive through a float-lined path in City Park to view iconic Mardi Gras floats from various krewes, including Bacchus, Rex, Zulu, Hermes, Thoth, Femme Fatale, King Arthur, Argus, Alla, Babylon, Druids, Carrollton, Morpheus and more. The event will take place Thurs., Feb. 4 through Sun., Feb. 14 from 5 - 10 p.m. on weekdays and 1 - 10 p.m. on weekends. Tickets are $10 from 1 - 5 p.m. and $20 until 10 p.m. VIP add-on tickets are $15. Purchase tickets.
Virtual Tucks Experience – This event, co-hosted by former Carnival Royal Leslie Cooper and WGNO's Kenny Lopez, will be live streamed on Saturday, February 13 starting at noon, and will raise money for Children's Hospital of New Orleans and Magnolia Community Services. It will feature a live music performance from SOUL Projec NOLA, live painting with internationally known NOLA artist Frenchy, interviews with Tucks royalty and and the Tucks Charitable Foundation, and a video tribute to parades past. Learn more or donate.
Historic New Orleans Collection's Virtual Field Trip – Celebrate Black History Month & Carnival with the New Orleans Baby Doll Ladies. On Friday, February 12 at 2:15 p.m., go on a virutal field trip recognizing the doll-maskers who resurrected this once dormant Carnival tradition. Learn more and register.
Krewe of Bacchus – This Super Krewe has gone virtual for 2021! They've created a free, interactive app with a virtual parade, games and real-life prizes. Download the Throw Me Something Bacchus! app at the App Store.
Krewe of Red Beans – A socially distant concert series through January which will culminate in an album. Get tickets.
Krewe of House Floats – Members in neighborhoods all across the city have turned the the exteriors of their homes into float. Check out this map of the houses.
Mardi Gras World – Behind-the-scenes look at float building and decorating.
New Orleans School of Cooking – Virtual cooking classes. Learn how to make king cake, red beans and rice, and other carnival musts!
Mardi Gras for Y'all – A three-night celebration from February 12, 13 and 14th with celebrities, musical performances, and fun segments on the history of Mardi Gras. Watch here.
New Orleans Princess Mardi Gras Brunch Ball – The Court of Two Sisters is holding this festive brunch for the princess in your house on February 6 with seatings at 10 a.m. and 1 p.m. Make reservations.
Carnival Programming on WYES – WYES, New Orleans' local PBS member station, will be airing a variety of Mardi Gras programs and Carnival classics. Check them out.
Mardi Gras New Orleans Photo Contest – Enter your best pics in our photo conest for a chance at winning a stay in New Orleans! Learn more.
Read: Bacchus Goes Virtual
Read: Where to Get Your King Cake On!
Find Out About Mardi Gras Street Closures