The Mystic Krewe of Music parade starts on Lapalco Blvd.
Continuing east until reaching Ames Blvd. where they turn left and head north.
Following Ames Blvd. Until reaching the Westbank Expwy. and turning right.
The parade ends around the intersection of the Westbank Expwy and Barataria Blvd.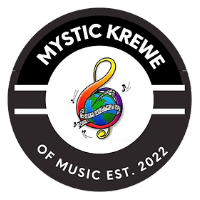 Founded in 2023, the coed Mystic Krewe Of Music rolls on the West Bank in Marrero with 250+ riders and 20 floats with musical themes. Their signature throw is a musical pillow.
The mission of The Mystic Krewe of Music is to bond, unite, and evoke a harmonious climate with men and women of all nationalities, races, and or religions. It strives to enhance unity through the spirit of a carnival celebration. The krewe works to embrace, embody, and exude music and love among the members, with the expectation of filtering its way into and throughout the community and city at large. Their goal is to reach and serve both the privileged and underserved by providing an uplifting program that will bridge gaps and disseminate social barriers.
Year founded: 2023
Membership: 250 coed riders
Number of floats: 20 floats