BOOK HOTEL
The Krewe of Chewbacchus starts at the corner of Royal Street and Homer Plessey Way.
It parades west down Royal for a block, and then turns left onto St. Ferdinand.
The krewe then follows St Ferdinand south until it turns right onto to N. Peters St.
At the end of N. Peters St, the parade momentarily goes left down N Peters Ave and then right down Esplanade Ave, until making a right to head north on Frenchmen St.
Then, the krewe follows Frenchmen until it reaches St. Claude, where it takes a right.
The parade will continue down St. Claude until it reaches Homer Plessey Way.
It continues until the corner of Homer Plessey Way and Dauphine Ave., where the parade ends.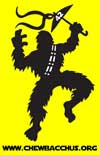 The 900-member Intergalactic Krewe of Chewbacchus is a Sci-Fi themed Mardi Gras parade, as well as a self-described satirical space cult. Chewbacchus consists of over 150 distinct subkrewes, each of which pays loving (and sometimes satirical) homage to the full spectrum of Science Fiction, Fantasy, Horror and everything in between. Chewbacchus is a model of creative collaboration and has grown into a self-sustaining tradition.
The parade consists of roughly 100 contraptions which are either pushed, pedaled, or pulled and are built onto bicycles, homemade trailers, and shopping carts. Chewbacchus believes that green parades are the "Future of Revelry" and does not use internal combustion engines to power floats. The mad scientists who engineer the krewe's contraptions have found clever ways to build amazing floats that don't require petroleum products.
The Krewe of Chewbacchus also makes all of its own throws and has created hundreds of elaborately decorated bandoliers, bean bags, Frisbees, stuffed animals, and even developed a method for casting their own custom bead medallions.
They only have only three simple thematic rules regarding costumes and parade contraptions:
No unicorns (unless they have rocket thrusters)
No elves (unless they are cyborgs).
Whinebots will be air locked into the nearest Black Hole
The krewe's traditional post-parade bash, the "Chewbacchanal," features several parties throughout the Bywater and Marigny, organized independently by the various sub-krewes. Members now have the option of a multitude of separate Chewbacchus celebrations all over the neighborhood hosted by the groups with their own individual rites honoring the Sacred Drunken Wookiee, including a wickedly good party at the Art Garage hosted by a mysterious group calling itself the Chewluminati.