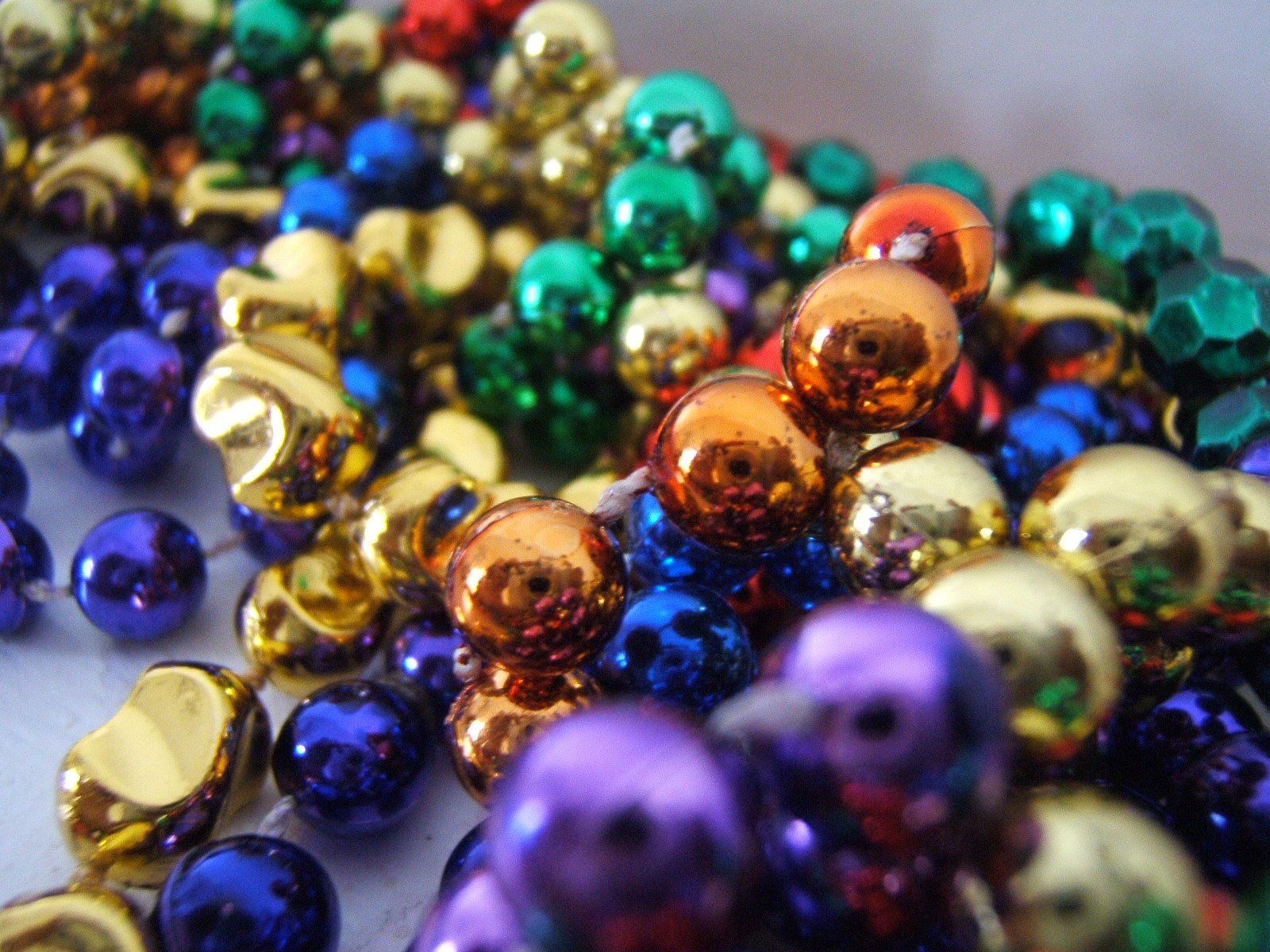 After mister throws you something, where do Mardi Gras beads go? Sure you keep some for souvenirs, but every year 25 million pounds of used Mardi Gras beads are thrown away. Save the commemorative medalions and blinkly lights and let us help you figure out what to do with all of the rest you have stockpiled! Yes, we're talking to you people who have the boxes stacked high in the attic or overflowing in the basement.
French Quarter/Treme
Alvar Library – 913 Alvar St.
JW Marriot Hotel – 614 Canal St.
Hotel Mazarin – 730 Bienville St.
Ritz Carlton Hotel – 921 Canal St.
Dauphine Orleans Hotel – 415 Dauphine St.
City Blueprint & Supply – 1904 Poydras St.
Treme Recreation Community Cente – 900 North Villere St.
Downtown/CBD
The Roosevelt Hotel – 130 Roosevelt Way
Dudley DeBosier Injury Lawyers office – 622 Baronne St.
Gult Coast Bank & Trus – 200 St. Charles Ave.
KPMG office – 909 Poydras St.
Capital One – 201 St. Charles Ave.
Federal Reserve Bank building – 525 St. Charles Ave.
Nopsi Hotel – 317 Baronne St.
Shell gas station – 701 Poydras St.
Windsor Court Hotel – 300 Gravier St.
Uptown
Touro Synagogue – 4238 St. Charles Ave.
Best Western – 3636 St. Charles Ave.
Loews Hotel – 300 Poydras St.
Poydras Home independent living facility – 5354 Magazine St.
Children's Resource Center Library – 913 Napoleon Ave.
St. Stephen Catholic School – 1025 Napoleon St.
Residential location – 625 St. Charles Ave.
ARC Document Solutions – 852 Tchoupitoulas St.
Louis S. McGehee School – 2343 Prytania St.
Milton H. Latter Memorial Library – 5120 St. Charles Ave.
Loyola University – 6363 St. Charles Ave.
Lyons Recreation Center – 624 Louisiana Ave.
Whole Foods – 5600 Magazine St.
ArcGNO's Uptown Community Center – 1771 Nashville St.
Lusher Charter School – 7315 Willow St.
Carrollton
Gulf Coast Bank & Trust – 201 N. Carrollton Ave.
Mid-City Public Library – 4140 Canal St.
Xavier University Library – 1 Drexel Dr.
Rosa F. Keller Library & Community Center – 4300 S Broad St.
Mid-City and Lakeview
Robert E. Smith Library – 6301 Canal Blvd.
Gulf Coast Bank & Trust – 848 Harrison Ave.
LSU School of Dentistry – 1100 Florida Ave.
City Park – 1 Palm Dr.
Dillard University's Will W. Alexander Library & Lawless Memorial Chapel – 2601 Gentilly Blvd.
Norman Mayer Library – 3001 Gentilly Blvd.
St. Bernard Recreation Center – 1500 Lafreniere St.
Sanchez Multi-Service Center – 1616 Caffin Ave.
Rosenwald Recreation Center – 1120 S. Broad St.
Whole Foods – 300 N. Broad St.
Longvue Hous and Gardens – 7 Bamboo Rd.
Gentilly/9th Ward
Milne Recreation Center – 5420 Franklin Ave.
Stallings St. Claude Recreation Center – 4300 St. Claude Ave.
New Orleans East
NASA Michoud Assembly Facility – 13800 Old Gentilly Rd.
East New Orleans Regional Library – 5641 Read Blvd.
Joe W. Brown Park – 5601 Read Blvd.
West Bank
Algiers Regional Library – 3014 Holiday Dr.
Cita Dennis Hubbell Library – 725 Pelican Ave.
Oakwood Mall – 197 Westbank Expy.
Metairie and Kenner
Gulf Coast Bank & Trust – 1825 Veterans Memorial Blvd.
Munholland United Methodist Church – 1201 Metairie Rd.
Haynes Academy for Advanced Studies – 1416 Metairie Rd.
Whole Foods – 3420 Veterans Memorial Blvd.
Click here for more information about the program and how to buy back the used beads.
Upcycle Beads with Crafts, Jewelry & Home Decor
If you're one of those people who love Pinterest and doing crafts, you may want to try your hand at re-using the beads in your next project. We've seen beads transformed into everything from framed wall art to lampshades. Who knows, it may even turn into a side business for you! Even if you're not that particularly crafty, many of these projects only require cutting and glueing, so they're safe for beginners.
Donate The Extra Beads
Speaking of arts and crafts, many schools collect the beads for art class projects. Other schools may collect beads to donate to groups like the Arc. Check with your neighborhood school to see if they could use your surplus beads.
So what are you planning to do with your unwanted beads? Share your plans with us on Facebook.
« back to News