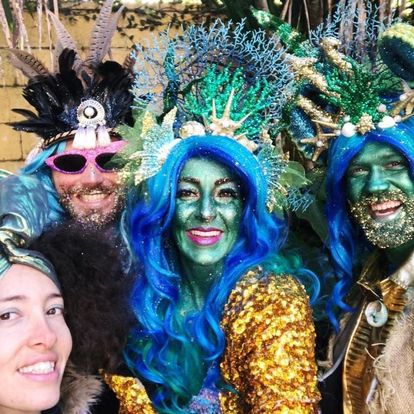 Think you need feet to parade? The 1st Annual Krewe du Fool's Mermaid Parade on Saturday, September 2nd at 6 p.m. is about to prove that notion wrong. The krewe, known for their annual parade on April Fool's Day, invites you to come dance, prance or swim from North Peters to the Aquarium where participants will vote and announce the winner of Best Costume and crown this year's Queen or King. All mermaids, mermen, fish and pirates welcome!
Led by Darryl "Dancing Man 504" Young, The Krewe du Fool first began parading in 2017, feeling there was a need to fill the void between Carnival and the height of festival season. This krewe should not be confused with the Krewe of Fools, a marching group that parades in the French Quarter on Lundi Gras, or the Carnival Fools, another walking parade that appeared on the scenes for the first time in 2022.
The cost to participate in the Mermaid Parade is just $15. Sign up now.
Photo credit: Lauren Mermaid McCabe