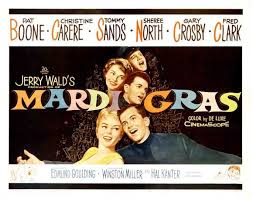 According to Carnival historian Arthur Hardy, Mardi Gras has been a back drop for 200+ movies, including musicals, thrillers, costume dramas, comedies, horror flicks, romances and more.
The camera began rolling at Carnival in 1898 when both the American Mutoscope Co. and the Thomas Edison Co. filmed the Rex parade. In 1902, Selig Polyscope Co. shot the arrival of Rex on Lundi Gras. And in 1910, rodeo star Tom Mix starred in Mr. Mix and the Mardi Gras, the first feature film highlighting Carnival.
To be honest, most Mardi Gras movies haven't been all that memorable, but several did feature big names. There was D.W. Griffith's White Rose from 1913. Will Rogers crashed the Comus ball and performed a lariat act in Handy Andy in 1934. John Wayne appeared in a parade scene in 1941's Lady from Louisiana. And Lucille Ball starred in Two Smart People, masked as a Mardi Gras princess in 1946.
In Abbott and Costello Go to Mars in 1953, the famous comedy duo accidentally launched a rocket destined for the red planet, but it landed at Mardi Gras instead. Hijinx ensued. And in 1958's Mardi Gras, Pat Boone starred as military school cadet who wins a date with a French movie goddess who just happens to be the queen of a Mardi Gras parade.
On the darker side, there was the x-rated 1978 film Mardi Gras Massacre about a serial killer who roams the streets of NOLA, sacrificing women to a Peruvian god. In 1984, Clint Eastwood starred in Tightrope, another movie about a serial killer at Mardi Gras. In stark contrast, there was also Disney's The Princess and the Frog in 2009 where Charlotte is a princess in a Mardi Gras parade.
In 1969. Peter Fonda, Jack Nicholson and Dennis Hopper starred in what is probably the most famous movie with a Mardi Gras connection to date – Easy Rider. Who could forget the LSD scene in St.Louis #1?
So what's your favorite Mardi Gras movie? If you know of a good one, let us know. Mardi Gras 2023 isn't until February 21. We need something to get us there.