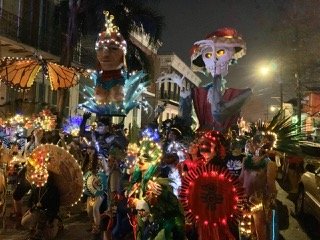 On Wednesday, November 2, beginning at 7 p.m., join your neighbors in celebrating the Day of the Dead – the Día de Muertos – honoring the lives of those who have died (particularly in the preceding year). In a city famous for parades, the Krewe de Mayahuel's annual Mexican Day of the Dead procession is always one of the most magical events of the year. Along with the Krewe of Mayahuel, members of the Lucha Krewe (devoted to Mexican pro wrestling), krewedelusion, and Krewe of Red Beans Carnival clubs will also be marching.
The route from the Bywater to St. Roch Cemetery #1 will begin at 3300 Royal St. From there, it will travel on Royal Street to Franklin Avenue, where it will turn right, then follow Franklin to St. Claude Avenue and turn left. At St. Roch Avenue, the parade will turn right, stopping at the gates of the St. Roch Cemetery #1, 1725 St. Roch Ave., where there will be singing and remembrances.
The theme of this year's parade, which blends Mexican and New Orleans culture, is the monarch butterfly, a symbol of "free and natural" migration.
Before the procession at 4 p.m., the Krewe de Mayahuel will present a mini festival at Mickey Markey Park. Anyone who makes a donation of any amount will be allowed to preview the parade floats and costumes before the procession. Learn more.
Photo credit: Krewe of Mayahuel/Facebook