Chewbacchus announces Multiple Mini-Chewbacchanals, Route Change, and Royalty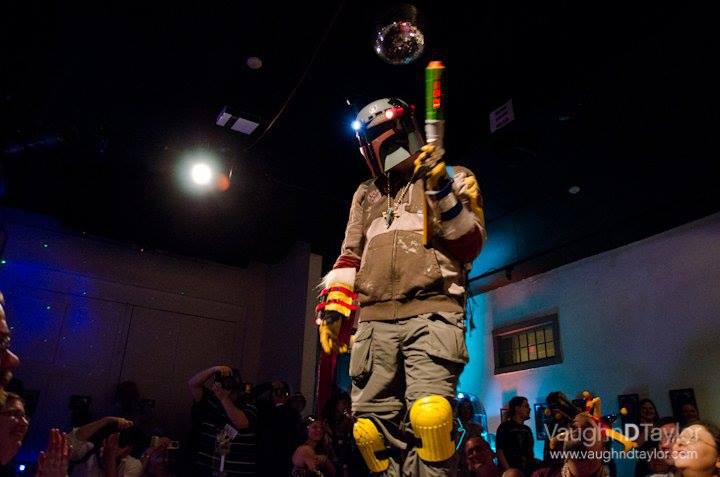 The Intergalactic Krewe of Chewbacchus returns for its eighth annual Mardi Gras parade on February 3rd, 2018! The vast Nerd Horde will once again take to the streets to celebrate its love for the Sacred Drunken Wookiee with the theme…"Get On Board the Mothership."
The Intergalactic Krewe of Chewbacchus also announces an across the board paradigm shift that takes the Krewe in the direction of an even more Decentralized DIY approach to Carnival.
Chewbacchus consists of over 150 distinct subkrewes, each of which pays loving (and sometimes satirical) homage to the full spectrum of Science Fiction, Fantasy, Horror and everything in between. Chewbacchus is a model of creative collaboration and has grown into a self-sustaining tradition.
The krewe's traditional post-parade bash, the "Chewbacchanal," has been decentralized for 2018 into several parties throughout the Bywater and Marigny, organized independently by these various sub-krewes. You now have the option of a multitude of separate Chewbacchus celebrations all over the neighborhood hosted by the groups with their own individual rites honoring the Sacred Drunken Wookiee, including a wickedly good party at the Art Garage hosted by a mysterious group calling itself the Chewluminati.
The route for the parade has been updated and will start with lineup along the railroad tracks of Press Street. The parade rolls to Frenchmen and back on Saint Claude Avenue, ending where it began at lineup.
Since its inception in 2011, Chewbacchus has been operated by three "Overlords" who organized the Krewe's parties, events, and parades. Kirah Haubrich, Brett Powers, and Ryan Ballard worked tirelessly for the last eight years to grow the DIY marching group into a massive spectacle of pop-culture enthusiasm and homemade ingenuity. The three Overlords are happily retiring from their positions with the 2018 parade and passing their big weird space baby along to the newly created "Overboard." The non-profit parading organization will be run by this expanded official "Overboard" of a dozen rotating members who will manage the various administrative aspects of Chewbacchus in the future.
Chewbacchus is proud to announce that the three original Overlords of the Krewe, Kirah Haubrich (Dilithium Crystal Hot Sauce), Brett Powers (MC Ghetto Fett), and Ryan Ballard (Space Commander Chewbaccacabra) will reign as the Royalty of the 2018 parade. Join us in celebrating their creation, their legacy, and the silly Sci-Fi-centric Carnival mashup they turned into an "only in New Orleans" cultural phenomenon. The Age of the Overlords is over. Long Live the Overlords!
"You know how the elves left Middle-Earth at the end of Lord of the Rings? It's exactly like that," says Space Commander Chewbaccacabra AKA Ryan Ballard. "Chewbacchus is all grown up and can walk on its own furry legs. We're proud of what we have created and what the Krewe has become. It means so much to so many people and it's been an amazing ride for all of us. So long and thanks for all the fish!"
For more information please visit chewbacchus.org
Get On Board the Mothership!
Krewe Love is True Love!
All Hail Our Sacred Drunken Wookiee!
Photo Credit: Vaughn D. Taylor
« back to News