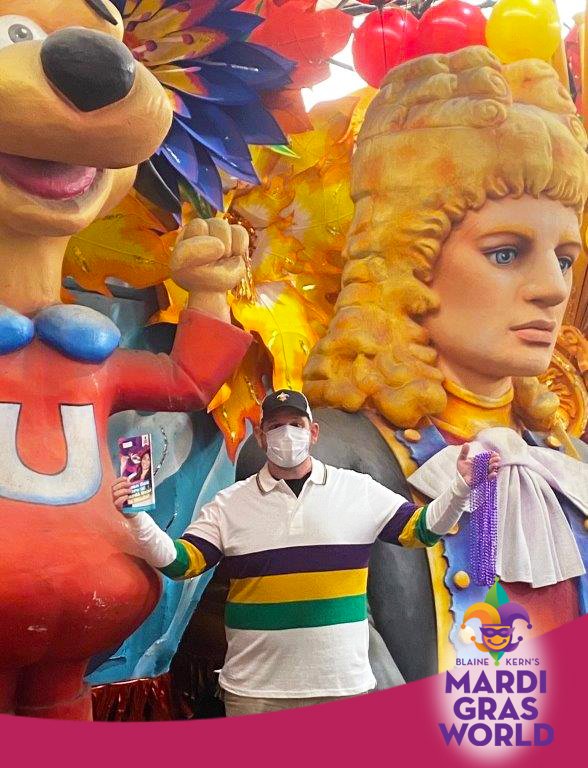 "We support Mayor Cantrell's efforts to keep the people of New Orleans safe and healthy. During times of hardship, New Orleanians know how to pull together and overcome. We will this time too, while keeping the public safe."
– Barry Kern, Kern Studios / Mardi Gras World
Working at home has been good for your health over the last few months but not so good for group collaboration. Now that businesses are opening back up, team building activities at Mardi Gras World are a great way to kick things off and get to know each other again. Put on your masks (no, we're not talking Mardi Gras masks) and head over there!
Keep in mind, because the safety of the your krewe and theirs is of upmost importance to them, Mardi Gras World has reopened in accordance with the CDC recommendations and The Event Safety Alliance Reopening Guide.
Two Ways To Rebuild Your Team.
After months in the Zoom conference room, what your team needs is a tour of the Mardi Gras World float-building warehouse and a Mini Float Building activity where you'll work together to create a mini float of your own. For just $85 per person, you'll get a one-hour tour and two-hour workshop.
A Mask Making Workshop is another fun activity that encourages creativity. The experience starts with a brief history of masking in New Orleans. From there, you'll be set free to make your own creations. You can upgrade the experience with a private tour. Mask-Making Workshops start at $35 per person.
For everyone's safety, the number of people they can accept for these activities is limited.
Learn more about Team Building at Mardi Gras World
Bring Your Work Family and Your Home Family.
Get your kids out of the house and have some safe, New Orleans-style fun this summer. Mardi Gras World is floating discounted admission for both visitors and locals.
Summer Discounted Admission: $15 per ticket
Local Discounted Admission: $22 for 2 tickets (with proof of LA residency)
Summer Hours: Monday - Sunday 10:30 am – 4:30 pm
« back to News