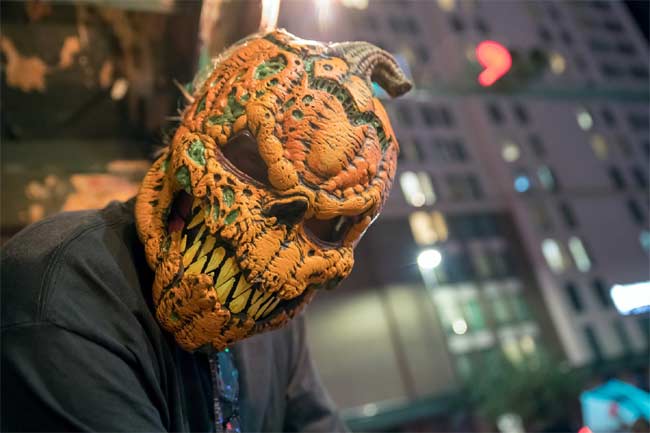 Since 2007, the Krewe of Boo has been the official Halloween Parade in New Orleans. The parade will roll at 6:30 p.m. on Saturday, October 23, 2021, with Mardi Gras-style floats constructed by Kern Studios – America's premier float-building organization – the folks who have been creating Mardi Gras magic since 1947. For safety measures, the Krewe of Boo will require all riders and members of marching groups to be vaccinated, or show proof of a negative COVID test in order to participate in the parade.
Under the direction of Brian Kern, artists outdo themselves every year with 3-D paper mâché and fiberglass floats and props representing all your favorite ghouls. Members of this green parade (we're not talking about Frankenstein) throw eco-friendly cups from Giacona Container Company, Pralinettes from Aunt Sally's, PJs Coffee Frac Packs, collectible light-up medallion beads, Chee Wees from Elmer's Fine Foods, Krewe of Boo t-shirts, plush toys, doubloons, and beads. Get ready to yell, "Throw me something, Monsta!"
The Parade Route
The Krewe of Boo parade route is as follows:
• Assemble at Elysian Fields Avenue
• Parade Down Elysian Fields Avenue to North Peters Street
• North Peters Street to Decatur Street
• Decatur Street past Jackson Square to North Peters Street
• North Peters Street to Canal Street
• Up Canal Street to Burgundy Street then U-turn
• Down Canal Street to Tchoupitoulas Street
• Tchoupitoulas Street to Andrew Higgins Drive​​
For more information, check out Krewe of Boo's official website at www.kreweofboo.com. While there, check out and their gallery of pictures from previous parades.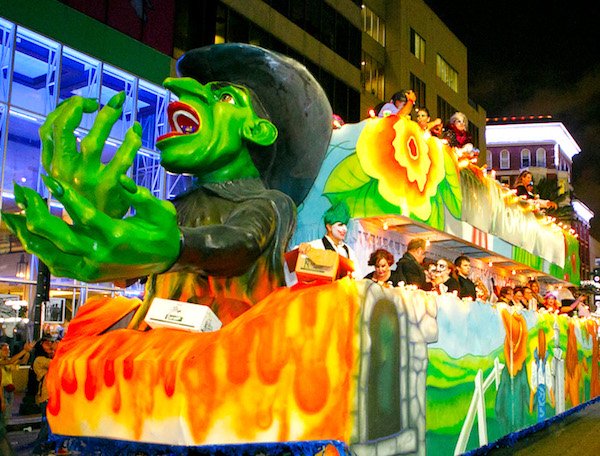 The New Orleans Zombie Run and Monster Mash
Along with the parade, the Krewe of Boo sponsors the New Orleans Zombie Run which will kick off the morning of the parade. Run, walk or crawl across the finish line dressed as a zombie or your favorite monster. Escape the Big Easy Rollergirl Zombie killers! The two-mile race starts at 9 a.m. in the Warehouse District and goes through the French Quarter before ending on Frenchmen Street. Register here.
Plus, there's a post-parade party, the annual Monster Mash, at Generations Hall at 8 p.m. Get tickets.
Top two photos by Robert Proctor/Compucast
Float photo courtesy of Krewe of Boo