While most people think of parades when they think of Mardi Gras, there are plenty of other traditions too. The King and Queen of each krewe work all year long for the big, spectacular ball. Their identity is a closely guarded secret and part of the mystique until the night of the Ball.
Most of the balls are a formal and private affair for the krewe. Debutantes are introduced at the Ball Tableau as a formal introduction to society. In climbing the social ladder, children start by serving as pages to the court. Women dress in ball gowns and hope to be issued a "call-out" card. If a debutante is fortunate enough to receive one, she is seated in a select area and waits her turn to be "called out" for a dance by the krewe member who sent the card. A night of dining and dancing with a prince in formal attire - what a dream!
Attendance at the older, more aristocratic balls is by invitation only. No one really feels left out if they don't receive an invitation, though. Many prominent people aren't invited, including governors wanting to attend. Ball invitations were originally die-cut and printed in Paris. Even today they can be quite colorful and valuable works of art. Invitations can also be collectors' items framed for their beauty and considered interesting conversation pieces.
"Super Krewe" Balls
Some large parades produce an indoor extravaganza the night of their parade. While all balls are exciting events, Bacchus, Orpheus, and Endymion, the three "super krewes," put on the best balls by far!
In Greek mythology, Bacchus is the god of wine and vegetation—and they host a celebration fitting of its namesake god. Mardi Gras balls were exclusive events closed off from most people outside of New Orleans society until this krewe revolutionized the event. In 1949, Edward Brennan Sr. created the krewe, a carnival Ball open to tourists. As they say, the first is the best because this event has become the talk of the town for tourists and locals alike!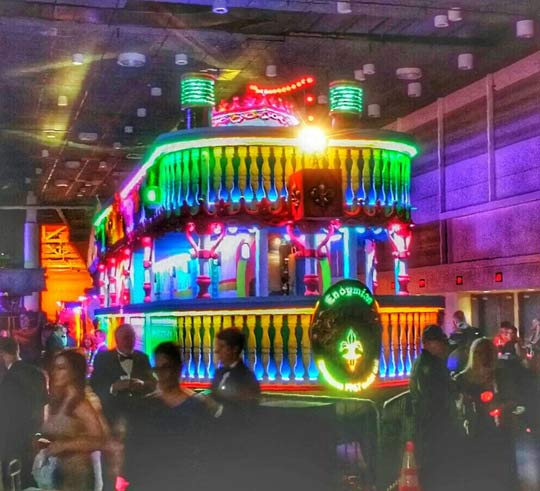 The largest of all krewes, including the "super krewes", the Krewe of Endymion hosts an after parade extravaganza that rivals any event of its kind. Held in the Superdome, the krewe hosts top name performers for entertainment with tens of thousands in attendance.
The appropriately names Krewe of Orpheus puts on a black-tie affair full of music and merriment at the Convention Center. It was the first of the super krewes open to both men and women. The Lundi Gras spectacle is legendary for having top notch entertainment from some of the hottest superstars.
This is a wonderful way to experience Mardi Gras. Everyone dresses formally and enjoys the parade, entertainment, and food all night long. See these re-broadcasts!